Macron Momentum Grows as French Socialist Fights Defections
By
Fillon preparing changes to budget-slashing campaign promises

Ayrault says Socialists need to think about beating Le Pen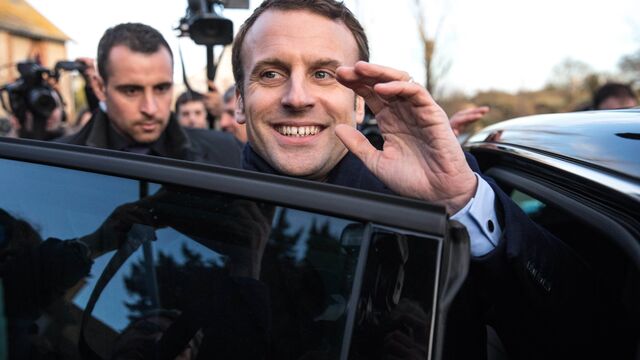 Emmanuel Macron showed signs of cementing his lead in France's presidential race with two more Socialist heavyweights all but endorsing him and a poll putting him ahead of the National Front's Marine Le Pen for the first round of voting.
Foreign Minister Jean-Marc Ayrault praised the 39-year-old rookie's policy plans and talked up his chances of victory on Thursday, suggesting Socialists should consider backing Macron rather than their party's nominee, Benoit Hamon, who is trailing in fourth place behind the Republican Francois Fillon. Defense Minister Jean-Yves Le Drian has informed President Francois Hollande he also plans to back his former cabinet colleague, BFM TV reported.

"I ask myself what to do to prevent a victory of Marine Le Pen, to secure the interests of the country and to prevent a possible victory of Francois Fillon?" Ayrault said on France Info radio. "It's a question that all Socialists have to answer."
Macron would lead the first round of voting with 26 percent, compared with 25 percent for Le Pen, according to a Harris Interactive poll published Thursday, though most other recent surveys have given Le Pen a slim advantage. Fillon would get 20 percent while Hamon was at 13 percent. Macron would beat Le Pen by 30 points in the runoff.
For an explainer on French polls, click here
After three different front-runners in the past six months, Macron may be consolidating his position as the candidate who'll take on Le Pen in the second round on May 7. That contest would offer voters a stark choice between Macron's vision of reform in France and renewal in Europe and Le Pen's plan to break up the euro and put up barriers on the borders.
French daily Le Parisien led its front page with the Socialist defections on Thursday, asking "Will Macron eat the Socialist Party?"
Hamon Snubbed
While Harris interviewed about 4,500 people between March 6 and March 9, a 16,000-strong survey by Cevipof put Le Pen at 27 percent, Macron at 23.5 percent and Fillon at 19.5 percent. That poll, conducted March 1 to March 7, gave Macron a 24-point lead in the runoff.
French bonds rose for the first time in four sessions, with the extra yield investors demand to hold French 10-year debt instead of their German equivalents falling 3 basis points to 62 basis points.
Ayrault's remarks come in a week when Macron has gained endorsements or warm words from across the political spectrum. Former Paris Mayor Bertrand Delanoe -- a Socialist -- said Wednesday that he is backing Macron and Dominique de Villepin, a former center-right prime minister, said he won't be voting for his party's candidate either and praised Macron's audacity and democratic credentials. Robert Hue, a former Communist Party leader, also spoke positively of Macron.
Hamon himself suffered a snub when Socialist Prime Minister Bernard Cazeneuve visited his headquarters Thursday and called on their party to pull together in a joint statement.
After Hamon thanked Cazeneuve for coming "to bring your support," reporters asked the premier to confirm that he was, indeed, backing his party's candidate -- and Cazeneuve simply walked off.
Socialist Defectors
Without an established party of his own, both explicit endorsements and more coded signs of support may help Macron to peel off partisans from France's main political families as he seeks to consolidate his position. Like Ayrault, Delanoe said it's imperative to rally opposition to Le Pen and Hamon isn't realistic on policy issues.
Jacques Attali, special counselor to President Francois Mitterrand in the 1980s, added his name to the list Wednesday, saying he will vote for Macron while Socialist lawmakers Christophe Caresche and Gilles Savary are circulating a text calling on their colleagues to endorse Macron, Le Figaro reported.
Meanwhile Fillon is shaking up his campaign team and preparing to adjust his policies at a press conference Monday, France Info reported. The 63-year-old Republican has been fighting to hold his campaign together as prosecutors prepare to charge him for embezzlement as soon as Wednesday.
Before it's here, it's on the Bloomberg Terminal.
LEARN MORE