JPMorgan Sees Le Pen's New Franc Falling by Up to 20 Percent
By and
Demand for more risk premium may drive proposed currency down

France's economic fundamentals seen limiting new franc losses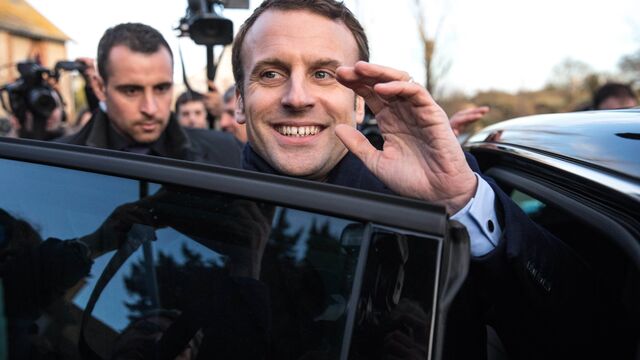 Marine Le Pen's proposed replacement for the euro would quickly depreciate by between 10 percent to 20 percent in trade-weighted terms should it become a reality, according to JPMorgan Chase & Co.
The new French franc envisaged by the anti-euro presidential candidate would slump to reflect the higher risk premium that foreign holders of France's bonds and stocks would demand if the nation exits the currency union, according to John Normand, London-based head of foreign-exchange, commodities and international rates research at the bank. That would be a similar move to the decline seen in the pound since the Brexit vote.
Currency reform has become a central feature of Le Pen's campaign, even as her vision for the new tender has appeared to shift and France's political system makes such a change difficult. The National Front candidate, who polls say will fall short of winning the Presidency, said Wednesday that she'd introduce a new franc at a rate of one-to-one to the euro and then allow it to fluctuate.
The preference of Le Pen's National Front party for loose monetary and fiscal policies amid rising inflationary expectations also could weaken a new franc, according to JPMorgan. Still, losses would be limited as France's economic fundamentals resemble those of core euro-area nations, the bank said, meaning the projected decline would be small relative to the average 50 percent depreciation that has resulted from various countries' balance of payments crises and other regime changes over the past 25 years.
"The magnitude of a currency undershoot would depend on how fiscal-monetary policies interact with possible capital controls during the exit process," Normand wrote in a note to clients. "The successor regime won't resemble the explicit strong-franc policy of the late 1980s and early 1990s. A weak franc characterized by 10 percent to 20 percent trade-weighted depreciation seems reasonable."
The euro would fall by about 10 percent versus the dollar over a few weeks on a Le Pen victory, JPMorgan said in a note in February. The bank didn't provide any estimate on potential euro declines in case France chose to exit the currency union.
France is the only core euro-area nation classified as net international debtor and non-residents have a sizable exposure to the country, owning at least 1 trillion euros ($1.05 trillion) of government bonds, 800 billion euros of equities and with 600 billion euros of corporate direct investment, JPMorgan says. This would make a new currency vulnerable to declines, the bank adds.
Even if Le Pen wins the election, introducing a new currency would require holding - and winning - a referendum over the euro. Also, she needs to manage a majority in parliament in June to be able pursue her plans, a major hurdle for her party which has never had more than two lawmakers in the National Assembly with the current voting system.
Before it's here, it's on the Bloomberg Terminal.
LEARN MORE