benchmark
Jobs Day Doesn't Worry Janet Yellen As These Indicators Say Go
The Fed is drifting further away from normal policy as financial conditions ease
By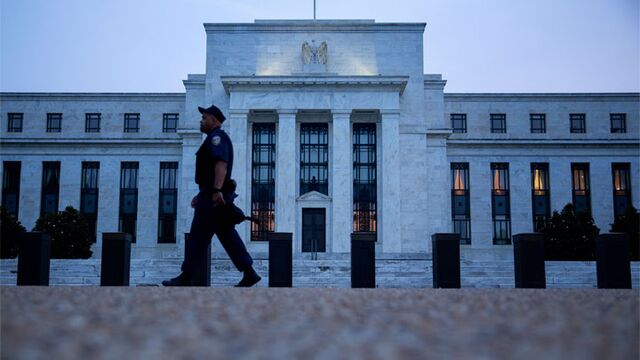 It was like watching a Federal Open Market Committee meeting play out in public view, said economist Neil Dutta, as Chair Janet Yellen, New York Fed President William Dudley, Vice Chairman Stanley Fischer and Governor Lael Brainard all jolted market rate hike expectations to near certainty last week through a series of speeches and comments.
What's remarkable is that Fed officials don't see a need to guard their options and wait for the February employment report, which will be out Friday. That means they have probably seen enough evidence to convince them it's time to go. Here are few indicators that emphatically say the central bank needs to move soon.

One guide for Chair Yellen is the setting of rates now based on estimates of something called the "neutral rate," a policy setting that neither speeds nor slows the economy. The current neutral rate might be around zero after adjusting for inflation, and it could rise to 1 percent in the longer run, Yellen said in her March 3 remarks, referencing Fed estimates which she admits are rough. Right now, the real federal funds rate is negative, so policy is stimulative.
The committee's strategy is to gradually lift the real federal funds rate to around zero by 2018,  and then up to 1 percent by 2019, according to their December forecasts. The chart above shows that just by standing still, they are in fact going in the opposite direction of their goal as inflation continues its gradual crawl upward. Watching negative real rates go even lower at a time when inflation and unemployment are at goal is a powerful motivation for any central banker to get moving, especially at a time when sentiment and GDP forecasts are moving up.
Another unusual fact the FOMC now faces is that financial conditions eased further after their December rate hikes in 2015 and 2016. When policy makers raise the short-term rate, they expect the cost of money to rise across markets, from mortgages to corporate bonds. Granted, we are talking about a very small move in the Fed's dial. Still, to see markets ignore it means the moves had little bite on overall financing costs, and are adding little friction to an economy that seems to be building momentum.

"We have had a sustained easing of financial conditions and it has been going on for a while,'' said Dutta, head of U.S. economics at Renaissance Macro Research in New York. "That is going to grease the wheels of the recovery beyond what they have penciled in.''
Finally, there is the labor market, Yellen's first reference point for policy since her chairmanship began in 2014. Improvement has been slow, but indicators now suggest there is little slack left.  The chart below shows that people stuck in part-time work are now around the lowest levels since mid-2008. It took two years to drop this measure by one million to 5.8 million in January, and that slow progress explains Yellen's patient policy. In December, however, this pool dipped to the lowest levels since June 2008.



The actual tightness may even be understated. JP Morgan Chase & Co. estimated in 2015 that about a half-million people were stuck in part-time work by employers who want to avoid offering health care benefits. The Affordable Care Act defined full-time workers who are required to be given benefits as 30 hours or more.
"We are a lot closer to the Fed's objectives," said Roberto Perli, a partner at Cornerstone Macro LLC in Washington. "It is really hard to deny that this is not the time to be raising rates."
(
For more news and analysis, see NI BENCHMARK
)
Before it's here, it's on the Bloomberg Terminal.
LEARN MORE