technology
Fox Says It Has Learned Lessons From Phone-Hacking Crisis
By and
Email deletion court case resurrects questions about conduct

Dowler family ex-lawyer: 'The Murdochs face a serious problem'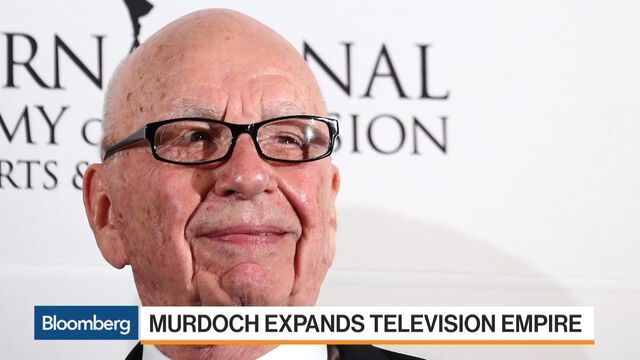 21st Century Fox Inc. says it's learned from Rupert Murdoch's "most humble day."
Murdoch's film-and-television company, responding to criticisms from the U.K. ministry that will ultimately decide whether to clear Fox's 11.7 billion-pound ($14.2 billion) takeover of pay-TV broadcaster Sky, defended its corporate governance practices and said they had been transformed since the phone-hacking crisis that derailed a previous buyout attempt in 2011.
"The level of scrutiny and controls we have imposed around the world were informed by the lessons learned in 2011," Fox Executive Vice President Jeffrey Palker said in a letter to the U.K. Department of Culture, Media and Sport on Wednesday.
Read more: U.K. Labour Seeks Murdoch Phone-Hacking Focus in Fox-Sky Review
By openly acknowledging the phone-hacking crisis, Fox is seeking to shape the inevitable debate over lapses in oversight that will come up as the government reviews Fox's plan to buy out Sky. Last week, the office of Culture Minister Karen Bradley cited "serious" failures of corporate governance by Murdoch's son, James Murdoch, in his role as executive chairman of News Corp.'s News International unit from 2008 to 2012.
Bradley has said she is leaning toward referring the Fox-Sky deal to the regulator Ofcom, having raised concerns around its effect on media plurality and Fox's commitment to broadcasting standards.
'Humble Day'
Allegations that Murdoch's News of the World, the U.K.'s biggest newspaper, routinely listened to private voicemail messages to get stories triggered widespread outrage leading to the shuttering of the tabloid and launched a parliamentary inquiry that called Rupert and James Murdoch for testimony in July 2011. Rupert Murdoch called it his "most humble day."
While neither News Corp., Fox nor the Murdochs were ever charged in relation to phone hacking, James Murdoch remains a lightning rod for criticism in the U.K. In a London court on Thursday, lawyers for phone-hacking victims revived allegations that top managers at News Corp.'s U.K. publishing unit ordered the deletion of over 20 million emails in 2010 and 2011 because they "could be unhelpful in the context of future litigation."
"If it's investigated properly, the Murdochs face a serious problem," said Mark Lewis, a media lawyer at Seddons who represented the family of Milly Dowler, a murdered 13-year-old schoolgirl whose voicemail was broken into by an investigator hired by News Corp.'s News of the World. "The point is whether the people who do these things are fit and proper people."
The allegations, to a certain extent, aren't new. The Crown Prosecution Service reviewed the issue as part of a probe into whether News Corp. itself should be charged, but in 2015 prosecutors said there was no evidence to suggest that email deletion was undertaken in order to pervert the course of justice.
Fox said Thursday that it is "confident that the transaction will be approved based on an objective assessment of the facts."
Ailes Case

Rupert Murdoch has transformed his media empire since the phone-hacking crisis that landed former News of the World Editor Andy Coulson and other News Corp. journalists in jail. The company split in two, separating the publishing operation from the Fox film-and-television business that James Murdoch now leads as CEO.
James Murdoch received mostly high marks for his handling of a sexual-harassment scandal at Fox News that led to the ouster of its chairman, Roger Ailes, last year. (The New York Times reported on Thursday that another Fox News executive was fired after an investigation into allegations he sexually harassed a female contributor.) Fox now has a majority of independent directors and also two committees responsible for corporate governance issues, it said in its letter.
In addition to the entertainment networks and film studio, 21st Century Fox owns Fox News and the 39 percent stake in Sky it seeks to increase to full ownership. Rupert Murdoch is chairman of News Corp. and co-chairman of 21st Century Fox with his son Lachlan Murdoch. In addition to his CEO role at Fox, James Murdoch is chairman of Sky, which operates the fifth most used news source across all platforms in the U.K., according to a 2015 Ofcom report.
U.K. opposition lawmakers have called on Ofcom to conduct a new "fit and proper" test of the Murdochs, in light of Fox taking full control of Sky. Ofcom declared Sky "fit and proper" to hold a broadcast license in 2012, but expressed reservations about corporate governance failures by James Murdoch and drew attention to his limited influence as a then non-executive director.
Compliance Changes
News Corp. shut down News of the World in 2011, and its U.K. newspaper unit, now called News UK, owns the Times, the Sunday Times and the Sun. In the U.S., the company owns the Wall Street Journal.
In 2012, in the wake of the scandal, News Corp. revamped its compliance and ethics programs. The company brought in a new general counsel, Gerson Zweifach, who would also act as chief compliance offer and who would lead a group of executives hired to focus on compliance. They included John McCoy, formerly associate regional director of SEC enforcement and Brian Michael, a former prosecutor for the U.S. attorney's office.
All three are now with Fox.
— With assistance by Kit Chellel, and David Hellier
(
Updates with Ofcom context in fourteenth paragraph.
)
Before it's here, it's on the Bloomberg Terminal.
LEARN MORE