Euro-Area Investors Re-Price Rate Expectations on Growth Outlook
By and
Euro advances as investors factor in higher interest rates

Bund yields rise as Draghi says debate on lower rate reference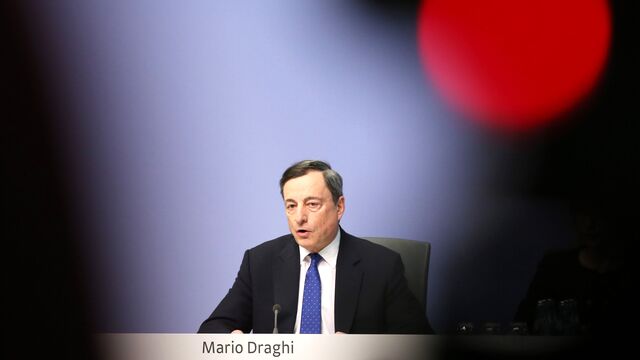 The euro snapped a three-day drop as investors in the euro area re-priced expectations higher for a rate increase following the European Central Bank's optimism on the region's growth outlook.
The Euro Overnight Index Average is now discounting 14 basis points of rate increase by June 2018, compared with less than two basis points at the end of last month. President Mario Draghi said the balance of risks to growth has improved and that a debate was held on removing a reference to lowering rates.
The euro rose as much as 0.7 percent to $1.0615 and German 10-year bund yields gained five basis points to 0.42 percent, the highest in a month. While Draghi defended the need to keep ECB stimulus, he said the Governing Council had a "cursory" discussion over whether to remove a pledge that the bank is ready to lower interest rates if needed.
"The euro is responding to the more upbeat assessment of the euro zone outlook provided by President Draghi," Valentin Marinov, strategist at Credit Agricole SA, said in emailed comments. "Presumably these are taken to imply that the ECB may be moving closer to removing policy accommodation once the political risks in the euro zone start to abate later in the year," he added.

Analyst Comments
Banco Bilbao Vizcaya Argentaria SA
"Draghi's less dovish stance has given some support to the euro but expectations of a strong employment reading in the NFP report tomorrow and the Fed hiking rates on Wednesday should help to prevent the pair from rebounding significantly," strategist Roberto Cobo Garcia said in emailed comments.
Bank of America Merrill Lynch
The comments on the debate over the reference to lower rates, "are slightly positive for the euro, but shouldn't really be a surprise," Athanasios Vamvakidis, head of G-10 currency strategy, said in a emailed comments. "We are not in a crisis any more and we are not concerned about deflation," he added.
BNP Paribas SA
The ECB is gradually shifting the economic outlook higher, changing the rhetoric and preparing the ground for some changes in the forward guidance in coming months, strategist Patrick Jacq said in emailed comments. "This reinforces bear steepening pressures, including on the money market curve," he added.
Natixis SA
"Draghi stressed that we need to see higher core inflation figures to make the headline index more sustainable. If we start having second-round effects on core and higher wages then it will be easier for the ECB to tighten," strategist Cyril Regnat said in emailed comments.
UniCredit SpA
"Draghi was quite clear that there is no longer urgency and the assessment of the economic activity was more favorable," strategist Vasileios Gkionakis said in emailed comments. "I think it was effectively a removal of rate-easing bias and this is what is driving the euro higher now."