politics
EU Leaders Take on Trump's 'America First' as Summit Talks Start
By
Europe is 'beacon of free trade' globally, Malta's Muscat says

Gathering probably last before U.K. activates exit clause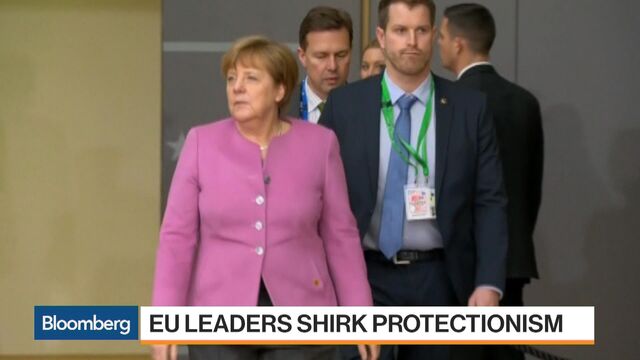 European Union leaders sent a clear signal that the 28-nation bloc will promote free trade, in a show of opposition to the protectionist stance floated by the new U.S. administration.
Faced with President Donald Trump's "America first" economic policy and a resurgent anti-globalization tilt in their own backyards, EU chiefs gathering on Thursday in Brussels used their last full meeting before Dutch and French elections to express their commitment to open commerce, pointing specifically to deals with Asian nations.
Read more: Who Will Wilders and Rutte Face in the Dutch Election?

"Europe remains the champion of open, rules-based trade. Not least due to signs of protectionism emerging elsewhere," said European Council President Donald Tusk, who was re-elected to his position at the meeting. "Trade is central to our economic success and so we will swiftly advance ongoing negotiations, such as with Japan."
Despite the show of European unity on trade, fissures appeared at the gathering when Poland refused to support the summit's conclusions, protesting the selection of Tusk, a former Polish prime minister. The leaders also discussed migration and heard a warning from European Central Bank President Mario Draghi to enact growth-friendly reforms since monetary stimulus won't always be around.
Polish Clash
Poland kicked up a fuss over Tusk, the former leader of the current opposition Civic Platform party, saying he's part of a Brussels establishment that has unfairly accused the government of eroding democratic standards. The current Polish government was the only one to vote against his bid for another 2 1/2 years as the coordinator of EU policy on behalf of the bloc's members.
To read more about Tusk's re-election as EU council chief, click here.
The leaders' forceful position on trade comes after negotiations between the U.S. and the bloc have stalled over the proposed Trans-Atlantic Trade and Investment Partnership. During Trump's first address to Congress last week, he reiterated complaints that other countries charge "very high tariffs and taxes" and put U.S. products at a disadvantage.
"In the face of protectionist threats it was very important that Europe reaffirms that we want trade defense and that we can have discussions with external countries, Japan, South America," French President Francois Hollande told reporters. "Europe must appear as an open continent. Europe should be an example of multilateralism."
Read more: Could trans-Atlantic trade ties be entering the freezer? A Q&A

As leaders descended on the Belgian capital earlier in the day -- almost certainly for the last time before British Prime Minister Theresa May triggers Article 50 of the Lisbon Treaty to start negotiations on exiting the bloc -- EU diplomats completed a draft of the summit's conclusions, cautioning against isolationist trade practices.
WTO Role
The early draft warned against protectionist tendencies and said that the "EU remains strongly committed to a robust trade policy and an open and rules-based multilateral trading system, with a central role for the World Trade Organization."
By highlighting the role of the WTO, leaders are emphasizing the need for fair as well as free trade, diplomats said. The wording is also intended to send a signal to populist groups like Marine Le Pen's National Front in France that are running for election on an anti-free trade ticket. The draft could be revised by leaders during the summit.
"We renewed our support for free trade," German Chancellor Angela Merkel told reporters, highlighting the advanced state of negotiations with Japan. Merkel also indicated that she would seek to accelerate talks with the Mercosur states, would push to renew the trade accord with Mexico and wanted to open a new chapter with China.
"Maybe now Europe is the beacon of free trade in the world at a time when there are more protectionist attitudes and policies elsewhere," Joseph Muscat, the prime minister of Malta, which currently holds the EU rotating presidency, said in a Bloomberg Television interview before the meeting. There's a "huge market" in the world for free-trade deals, such as the one recently agreed between the 28-nation bloc and Canada, he said.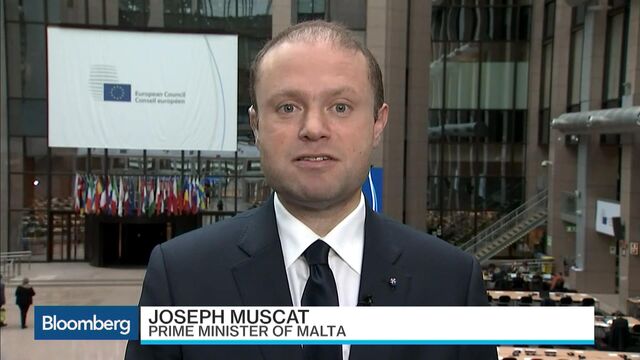 — With assistance by Richard Bravo, Nikos Chrysoloras, Francine Lacqua, Wojciech Moskwa, Jonathan Stearns, Marine Strauss, Patrick Donahue, Chiara Albanese, Caroline Connan, and Edward Ludlow
Before it's here, it's on the Bloomberg Terminal.
LEARN MORE