Egypt's Inflation Surges to 30% But Monthly Price Gains Ease
By and
Stemming price rises key for government to maintain stability

Rate of price increase decelerated in month-on-month measure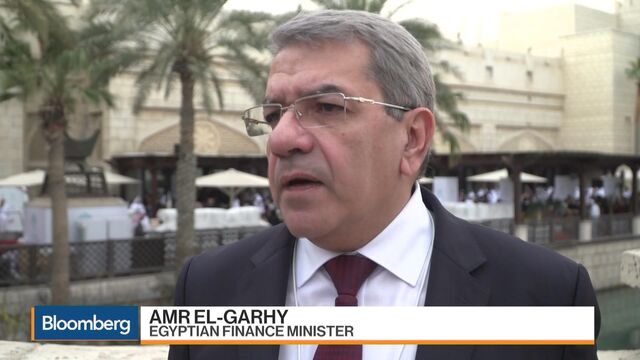 Egypt's inflation accelerated above 30 percent in February, among the highest levels in emerging markets, though there were signs that the aftershocks from the decision to abandon currency controls may be fading.
Consumer prices in urban parts of the most populous Arab country climbed to an annual rate of 30.2 percent from 28.1 percent in January, according to data released by the state-run statistics agency on Thursday. The pace of monthly overall price gains, however, eased to 2.6 percent from 4.1 percent in the previous month. Core inflation -- which strips out volatile items -- showed a similar trend, with the annual rate rising to 33.1 percent in February from 30.9 percent, and the monthly rate easing to 2.6 percent from 5 percent.
Prices have soared in Egypt since the government rolled out a series of economic measures in November aimed at securing a $12 billion loan from the International Monetary Fund, including floating the pound and raising fuel prices. The monthly numbers may indicate that the worst is over, according to Hany Farahat, senior economist at CI Capital, a Cairo-based investment bank.
"This may mark the beginning of stabilization in prices," Farahat said by phone after the data was announced. The annual rate "will remain very high until November" because it's calculated against a lower base, he said.
Finance Minister Amr El-Garhy last month said he expected inflation to peak at the end of the first quarter.
Protests
Stemming inflation is key for President Abdel-Fattah El-Sisi's government, because while Egypt's financial conditions have improved since November, soaring prices are putting severe pressure on households. Hundreds of people protested this week against the decision to lower bread subsidies, forcing the government to partially backtrack on the measure.
The cost of food and beverages rose 40.5 percent in February.
The demonstrations highlight the delicate balancing act facing officials as they seek to lure investors, cut spending and raise taxes in a country where about half of the 90-million population live near or below the poverty line.
The cost of imports has surged since the pound was floated, and "firms have been quick to pass the hit on to consumers," Capital Economics said in an emailed note. Even so, "inflation is close to peaking and should fall in the second half of the year," it said.
Before it's here, it's on the Bloomberg Terminal.
LEARN MORE