Five Things You Need to Know to Start Your Day
Get caught up on what's moving markets.
By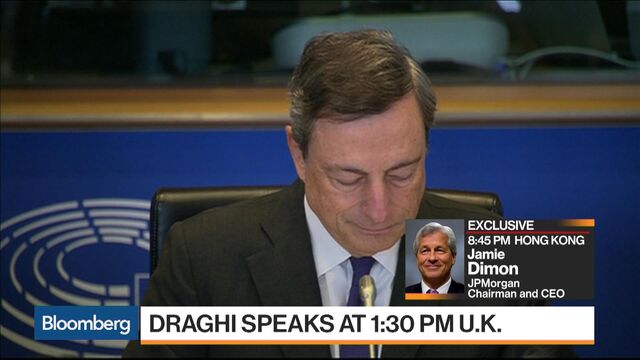 Want to receive this post in your inbox every morning? Sign up here.
It's decision day at the ECB, we're nearly there for Bill Gross's Treasury bear market, and oil drops below $50. Here are some of the things people in markets are talking about today.
ECB day
At 7:45 a.m Eastern Time the European Central Bank will announce its latest monetary policy decision, with President Mario Draghi expected to defend the bank's easing policies at the press conference starting 45 minutes later. With no changes in interest rates likely, investors will be keeping an eye on the inflation forecast update which is due, and looking for confirmation of the abandonment of some crisis-era policy instruments. 
Oil below $50
West Texas Intermediate for April delivery continued its tumble this morning, falling as low as $49.20 a barrel by 5:15 a.m. after dropping 5.4 percent in yesterday's trade. At an energy conference in Houston, billionaire shale oilman Harold Hamm warned that the U.S. industry could kill the oil market if it embarks on another spending binge. The increasing threat from U.S. production is leaving OPEC members unsure as to what to do next. 
Nearly bear
Yesterday's surprisingly strong ADP employment report pushed 10-year U.S. Treasury yields to the highest level since December, and market-implied odds of a rate hike from the Federal Reserve next week to 100 percent. The yield, at 2.57 percent by 5:30 a.m., is almost in reach of the 2.6 percent mark which bond-market veteran Bill Gross said would signal the start of a bear market -- should it hold on a weekly basis. 
Markets slip
Overnight, the MSCI Asia Pacific Index fell 0.4 percent, while Japan's Topix index added 0.3 percent as the yen weakened for a third day against the dollar. In Europe, the Stoxx 600 Index was 0.3 percent lower at 5:39 a.m. as investors awaited the ECB decision. U.S. equity futures were also slipping, setting the market up for its fourth straight day of declines. 
Reflation, trade
China's producer prices surged 7.8 percent in February, the fastest pace since 2008 and a jump which lifts the outlook for global reflation. That global reflation will only work if China can still trade globally, which is something policymakers in Beijing seem to be getting increasingly concerned about. A Ministry of Commerce spokesman warned that, should the U.S. decide it is not bound by World Trade Organization decisions, "we would even fall into the same old traps such as the trade war in the 1930s."
What we've been reading 
This is what's caught our eye over the last 24 hours.
Before it's here, it's on the Bloomberg Terminal.
LEARN MORE