Draghi Warns EU Leaders Elections Mustn't Derail Reform, Source Says
By and
ECB president said stimulus won't last forever, risks remain

Brexit impact will be negative in the medium term, Draghi said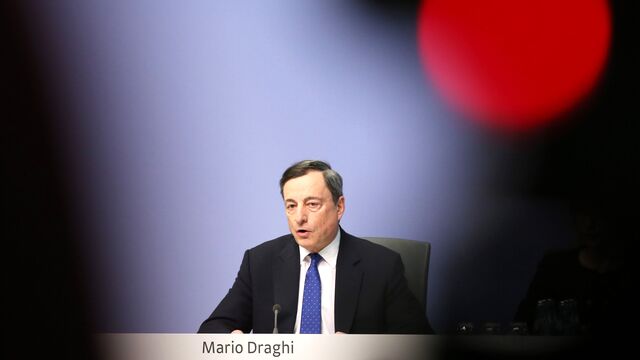 Mario Draghi warned European Union leaders not to use the electoral cycle as an excuse to postpone growth-enhancing reforms, saying the European Central Bank's monetary stimulus won't last forever, according to a person familiar with the matter.
Even if pushing structural changes through parliament is difficult before elections, the implementation of those reforms already passed should go ahead, the ECB president told EU leaders at a summit in Brussels, according to the official, who asked not to be named as the discussion was held in private.
Back in December, in his last presentation to EU leaders, Draghi cited the unusual number of elections as one of the main factors clouding the economic outlook for the 19-nation euro area. On Thursday, he insisted that governments should push through growth measures that will help euro-area economies converge.
"He indicated that especially if the ECB's monetary policy measures, which of course can't go on forever, are absent sometime in the future, it will be necessary to have pushed through structural reform in order to ensure sustainable recovery,'' German Chancellor Angela Merkel told reporters in Brussels.
Brexit Effect
Mainstream parties in the Netherlands, France and Germany are vying to fend off a surge in populism in a run of ballots that begin next week.
Even as economic recovery in the euro area gains pace, Draghi said that geopolitical risks, including Brexit, remain. The U.K's decision to leave the EU had less immediate impact on the economy than feared, but over the medium term the effect will be negative, Draghi said.
"There was a debate over ECB quantitative-easing policies because positive macro data, which we have in Italy as well, do not mean there are always good consequences at social level," Italian Prime Minister Paolo Gentiloni told reporters.
EU President Donald Tusk, addressing reporters in Brussels, said that "things are getting better and they're getting better in every member state of the union."
"This proves that our economic strategies are on the right track," he said. "Job creation will remain our priority as the best means to tackle inequality and expose the myths of the populists."
— With assistance by Patrick Donahue, Ian Wishart, Jonathan Stearns, Marine Strauss, Tim Ross, Caroline Connan, and Edward Ludlow
Before it's here, it's on the Bloomberg Terminal.
LEARN MORE