markets
Despite Elections, French Stocks Are Proving Safest in Europe
By
CAC 40 has fewer daily moves of 1% or more than most peers

French shares have been trading at lower relative valuations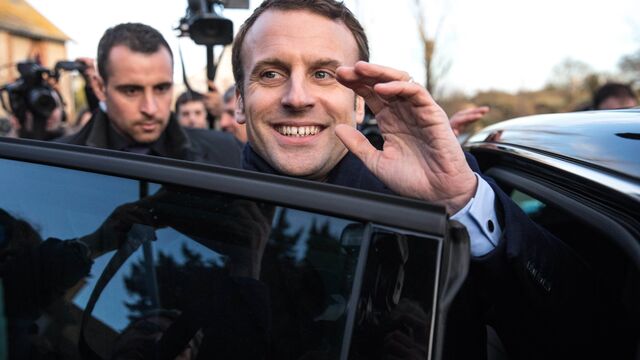 The nation that could witness Europe's next political headache is also the one that's given stock investors the fewest days of slumps among major regional peers.
While the CAC 40 Index has gained just about as much as the Stoxx Europe 600 Index since the U.S. election in November, it's fallen more than 1 percent only once. National gauges of Germany, Britain, Switzerland, Italy and Spain have all had more days with losses of that magnitude. Lifted by gains in banks, industrial companies and luxury shares, French equities have rallied more than 1 percent on nine occasions since Nov. 9.

Despite anxiety in the country's bond market, equity traders have remained calm as polls show euro-skeptic Marine Le Pen will pass the first round of presidential elections in April. That's because investors who bought shares in November are waiting for more clarity on whom she'll be up against before betting big on the outcome either way, according to Francois Savary at Prime Partners.
"The global value rally made people rediscover French stocks just as it became more difficult to predict the vote," said Savary, who helps oversee about $2.8 billion as chief investment officer of Prime Partners in Geneva. "Volatility should pick up the moment the market makes a call on the election."
Shares in the CAC 40 trade at about 14 times estimated earnings in the next year, compared with almost 15 for companies in the Stoxx 600. French stocks have had a lower valuation than those on the regional measure since May 2014, data compiled by Bloomberg show. Since the U.S. November ballot, the CAC 40 has climbed 11 percent, and only the FTSE 100 had fewer days of moves of 1 percent or more in either direction.
With a little more than six weeks to go before the first round of voting, options traders have begun hedging, sending the cost of protecting against turbulence in French stocks in the next two months to the highest since at least 2010 relative to options on the Euro Stoxx 50 Index. But in the shorter term, volatility is hovering around its lowest level since July 2014.
Last year, similar measures of two-month swings for the U.K.'s FTSE 100 Index and the U.S.'s S&P 500 Index picked up only in the month running up to the Brexit and presidential votes, respectively.
Before it's here, it's on the Bloomberg Terminal.
LEARN MORE