Israel's Leaders Disagree on How to Take Advantage of Trump Presidency
By
U.S. shift on settlements is emboldening Israel's right wing

Netanyahu griped about Obama, but U.S. 'bad cop' had its uses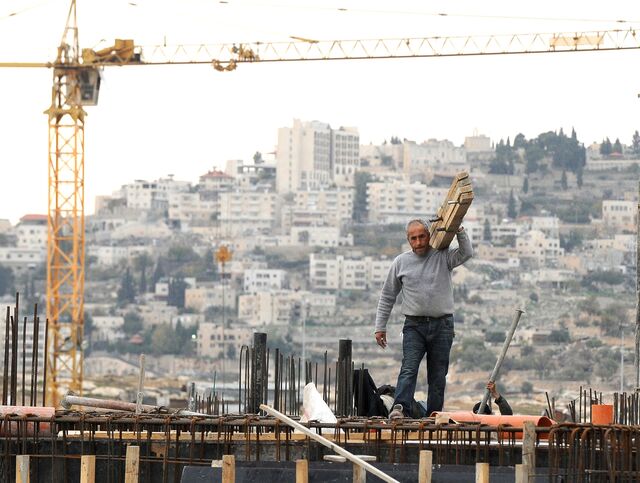 Israel's right-wing leaders have been waiting for an American president like Donald Trump. But now that he's here, they can't agree on how to take advantage.
Trump picked an ambassador who's spent a lifetime supporting Jewish settlements, watered down America's support for a two-state solution, and pledged to get tougher on Iran. Benjamin Netanyahu spent eight years feuding with Barack Obama over precisely those issues, so for the Israeli premier, it might sound like welcome news. Except that Netanyahu's coalition partners -- who are also his rivals -- are fixated on the first two items on that list, while the prime minister's eye is on the last.

Netanyahu, according to an official close to him, wants to leverage Trump's support to create a broad alliance against Iran, one that would align Israel with many of its Sunni Arab neighbors and make the Jewish state more secure. The issue is likely to come up in Moscow today too, when the Israeli premier meets President Vladimir Putin. And to keep his goal alive, the official said, Netanyahu wants to steer clear of dramatic moves on settlements.
"Precisely because Netanyahu sees opportunities for renewing a strategic front against Iran, with America at the helm, settlement-building is much lower on the list of his priorities," said Yossi Klein Halevi, a senior fellow at the Shalom Hartman Institute.
Green Light?
His chief right-wing rival is Naftali Bennett, the education minister and leader of the pro-settlement Jewish Home party, who's called Trump's election an opportunity for bolder policy. Bennett advocates annexation of parts of the West Bank that the Palestinians want for a state. In the Obama era, Netanyahu could quash such talk by pointing to U.S. objections. Under Trump, that's trickier -- the new president has flashed green lights, even though he's also signaled he'd prefer not to see too much settlement construction.
In part, the division reflects uncertainty over what Trump actually wants -- a feeling shared across the Middle East and beyond, as governments wait to see which U.S. policies will change. In its final weeks in office, the Obama administration warned that an Israeli "settler agenda" is endangering the country's future, an argument also often made by the European Union, Israel's other main trade partner.
Two much-discussed plans highlight the dilemma. When Jewish settlers were ejected from the unauthorized outpost at Amona last month, in compliance with a court ruling, Netanyahu's government promised recompense in the form of a brand-new settlement -- which would be Israel's first for a quarter-century. It's not clear if that will actually happen.
Meanwhile, Bennett's party and some members of Netanyahu's Likud have been pushing for legislation to extend Israeli sovereignty to the settlement of Ma'ale Adumim near Jerusalem -- a move now on hold at the premier's request. Again, it's been decades since Israel formally annexed territory, which would lead to international opprobrium and might involve giving more Palestinians the vote.
Succession Dance
Of course, Israel's second-longest-serving premier is no stranger to balancing acts. And he doesn't have to hold elections for two years -- on paper at least; few Israeli coalitions survive a full term. But Netanyahu's grip on power has been threatened by a criminal investigation into ties with business and media groups, and that's encouraged rivals on both left and right to maneuver for a possible succession.
One poll showed that Bennett could win power as leader of a right-wing bloc if Netanyahu was forced out by the police probe. Other surveys suggest centrist leader Yair Lapid, who's been more supportive of American peacemaking, is best placed to take over.
"Netanyahu is trying to dance at both weddings," said Abraham Diskin, professor emeritus of political science at the Hebrew University of Jerusalem. "He knows he can't move too strongly to the right, otherwise he crowns Yair Lapid. But if he moves too much to the center, he's concerned Bennett would take advantage."
Before Netanyahu's first meeting with President Trump last month, Bennett called on his boss to abandon the idea of a Palestinian state. The premier criticized his impulsiveness.
'Give Me the Deal'
Trump told Netanyahu that he's open to ideas beyond the two-state solution, and didn't repeat Obama's early call for a total settlement freeze. Teams from the two countries, led by Israeli Ambassador Ron Dermer and Trump aide Jason Greenblatt -- who's due to make his first trip to the region as special U.S. representative next week -- are now working out an understanding. Its fruits may not be made public, but analysts and officials say it's likely to draw on the Bush administration's 2004 policy of allowing for building in large existing settlements.
Such an outcome would be applauded by many Israelis -- but it may disappoint the settler movement.
"What is he going to tell Amona evacuees?" said Chaim Weizmann, who teaches politics at the Interdisciplinary Center Herzliya. "What Netanyahu will try to project is: 'Don't cry about Amona when I'm dealing with a nuclear Iran'."
In other words, he'll play up the prospect of Arab alliances. The tactic could work for a while, according to analysts and aides. But most of the potential Arab partners have made it clear, publicly and privately, that they still support a Palestinian state, as does almost the entire international community. Netanyahu has avoided using the "two-state" phrase recently, and argued that much depends on what kind of powers come with statehood.
Eventually, most U.S. presidents turn their attention to Middle East peacemaking. The key question, says former Netanyahu adviser Yoaz Hendel, is: what happens when Trump does?
At some point, according to Hendel, "Trump will say 'Give me the deal.' And Netanyahu won't be able to deliver it. Then, there'll be a showdown."
Before it's here, it's on the Bloomberg Terminal.
LEARN MORE