markets
China's `Stable, Solid' Yuan Faces Five Key Threats This Year
Bloomberg News
Options market pricing in least volatility of emerging markets

Trade fight with Trump, regional tensions could upend yuan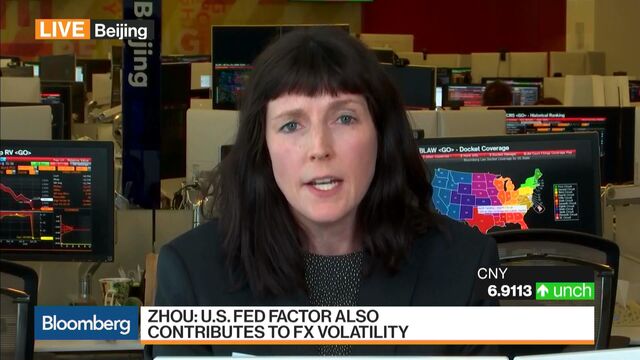 Chinese policy makers have made it clear that they don't want any surprises when it comes to the yuan.
With his deputies striking a consistent tone all week, amid the National People's Congress in Beijing, People's Bank of China Governor Zhou Xiaochuan used a rare press conference Friday to reinforce that the currency will be "relatively stable" this year. While Premier Li Keqiang hinted at an increased tolerance for bigger yuan moves in his address last Sunday, deputy governor Yi Gang said on three separate occasions the yuan is "stable," and his colleague Pan Gongsheng emphasized the currency market is "solid."
Three-month implied volatility on the managed yuan is the lowest among emerging markets, as capital controls quell demand for foreign exchange.

Analysts, however, see risks to the PBOC's outlook, with the potential for volatility on a number of fronts:
1. Hawkish Fed
The U.S. central bank's monetary policy poses the single biggest risk to the yuan this year, says Gao Qi, a currency strategist at Scotiabank in Singapore. Gao expects three interest-rate hikes from the Federal Reserve in 2017, which would narrow China's rate advantage over the U.S., making yuan-denominated assets less attractive. When asked about this Friday, Zhou said the rate differential won't lead to persistent speculation on the currency.
2. The Trump Card
U.S. President Donald Trump has vowed to bring China to account on trade, saying during the election campaign that he'd boost tariffs on Chinese imports and label the country a currency manipulator. A trade war would be "very damaging" to Asia's largest economy, hitting the current-account surplus and the yuan as well as slowing the pace of structural reform, BNP Paribas SA economists Chen Xingdong and Jacqueline Rong wrote in a note Tuesday.
3. The Economy Stumbles
China's economy has had a good start to the year, with factory prices surging the most since 2008 in February, and manufacturing accelerating. Data that undermines the idea of a recovery, though, could weigh on the yuan. Furthermore, Sue Trinh, head of Asia foreign-exchange strategy at RBC Capital Markets in Hong Kong, says that in order to meet its 2017 growth target, China will have to depreciate the yuan and rely on higher leverage. Zhou said Friday a healthy economic recovery will help the yuan's trend toward stability.
4. Capital Curbs Dropped 
While they've eased pressure on China's foreign reserves by sapping demand for external currency, capital controls could be pared back in the second half as the country seeks to maintain and build on the yuan's new-found global status, says Ken Cheung, a Hong Kong-based currency strategist at Mizuho Bank Ltd. This risks reigniting the outflows that contributed to the yuan's worst annual slump in more than two decades last year. Chinese company chiefs criticized the controls this week, saying they're thwarting offshore deals.
5. Regional Tension
China is fuming over U.S. plans to deploy a missile defense system in South Korea, curbing travel to its eastern neighbor and making life hard for Korean companies that operate within its borders. While the spat is yet to have any impact on yuan trading, if it escalates and other countries in the region are involved, all currencies in emerging Asia will see losses, including China's, says Scotiabank's Gao.
When it comes to forecasts, analysts are predicting the smallest yuan move since 2012. The median of 45 estimates compiled by Bloomberg is for the currency to slip 2.2 percent this year
The yuan weakened 0.14 percent to 6.9170 per dollar as of 5:30 p.m. in Shanghai, leaving it down 0.3 percent this week, the third straight weekly decline. The offshore yuan dropped 0.04 percent to 6.9075 Friday
— With assistance by Tian Chen
(
Updates yuan trading in last paragraph.
)
Before it's here, it's on the Bloomberg Terminal.
LEARN MORE