China Factory Prices Extend Surge in February, Lifting Reflation Outlook
Bloomberg News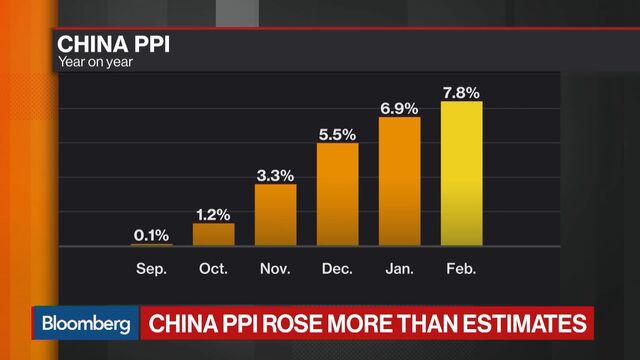 China's producer prices surged at the fastest pace since 2008, further lifting the outlook for global reflation as manufacturers in the exporter to the world look to pass on higher costs.
The Details
Producer price index rose 7.8 percent last month from a year earlier, compared with median estimate of 7.7 percent in Bloomberg survey and a 6.9 percent in January
Factory prices only swung out of 4 1/2 years of deflation in September
Consumer price index rose 0.8 percent versus 1.7 percent increase forecast by analysts, as timing of Lunar New Year holidays skewed the reading

Big Picture
China is lifting the global price outlook as producer inflation climbs and a pick up in demand fuels commodity prices. Still, economists see such forces moderating as year-earlier comparisons begin to rise and policy curbs restrain the property market. The CPI data was distorted by the week-long Chinese New Year holiday, which started in February last year, driving up food prices as families prepared for gatherings, whereas it fell in late January this year, when CPI climbed to a 2 1/2 year high of 2.5 percent.
Economist Takeaways
It's a "strange reflation of the Chinese economy," said Alicia Garcia Herrero, chief Asia-Pacific economist at Natixis SA in Hong Kong. It helps "corporations by allowing them to push up prices and generate the needed revenues to cover their very high debt burden."
"Everything has peaked in the first quarter -- nominal GDP growth, corporate earnings, PPI inflation," said Larry Hu, head of China economics at Macquarie Securities Ltd. in Hong Kong. "The strong numbers we are seeing now are not sustainable."
"This reflects robust demand, higher commodity prices, and a weaker yuan," Fielding Chen, an economist at Bloomberg Intelligence in Hong Kong, said in a note. "More-recent moves in oil and iron ore prices suggest some cooling ahead. But the reflation trend points to higher corporate profits and lower real borrowing costs -- both positive for China's economy."
"We expect CPI inflation to remain tamed in the near term, while PPI may stay elevated," Eva Yi, an economist at China International Capital Corp. in Hong Kong, wrote in a report. "We do not expect a fast decline of PPI after February, nor do we believe February PPI is necessarily the high-point for this round of PPI reflation. Higher PPI signifies recovering investment and export demand and notable improvement in industrial profitability."
The Details
Producer prices for mining and raw materials surged
Consumer prices of food fell 4.3 percent from a year earlier
The slowdown in CPI was due to falling food prices, fewer tourists and cheaper accommodation after the Chinese New Year holiday, the NBS said in a statement