Chicago Wants to Be a Hub for China Stock Trading
An acquisition by a Chongqing conglomerate faces scrutiny.
By , , and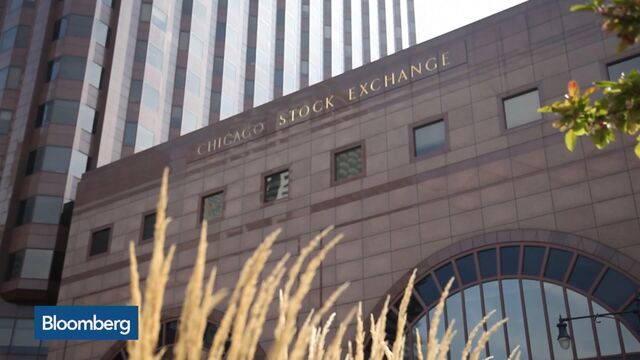 After more than a century in the shadow of New York's Big Board, the Chicago Stock Exchange has been short on cash and searching for relevance. Now the exchange, which handles less than half a percent of U.S. stock trades, is approaching the final hurdle in an audacious plan to become a player in international equity markets.
The exchange last year found a buyer: a group of investors led by Chongqing Casin Enterprise Group Co., a conglomerate based in China with no apparent experience running an exchange. If the $27 million deal wins approval from the U.S. Securities and Exchange Commission, one of America's oldest trading venues will have a new focus: courting listings from small companies, particularly those based in China.
The deal "affords us the ability to grow, it enables us to hire, it allows us to run a listing program that allows companies to raise the capital they need to grow," says John Kerin, the chief executive officer of the exchange. Kerin and his team have spent the past year answering regulators' questions, but SEC approval isn't assured. The acquisition passed muster with the Committee on Foreign Investment in the U.S., which evaluates the security risk of takeovers by foreign companies, but President Trump criticized the acquisition during his campaign. Members of Congress in December questioned whether the business could be adequately supervised.
Casin, which invests in real estate and operates sewage treatment plants, is leading a buyers' group that includes an interior design firm and several U.S.-based entities. As members of Casin's leadership have begun learning about owning a stock market, they've been discovering Chicago with the help of Kerin and his colleagues. They've walked the lakefront, gone bowling, and caught a Bulls game. (They haven't yet seen the Bears.)
The group's plan would revamp the exchange's stock listings business to cater to small and midsize U.S. companies that can't meet the requirements and costs of listing on other exchanges. The venture would take advantage of a 2012 law, the Jumpstart Our Business Startups Act, that makes it easier for small companies to go public.
The plan would also seek to capitalize on interest from Chinese companies in pursuing a U.S. listing. More than 800 enterprises are waiting for initial public offering approval on exchanges in China, according to the China Securities Regulatory Commission. But building a new pipeline for Chinese listings has risks. Investors were burned by an earlier wave of small-to-midsize Chinese companies using so-called reverse mergers. The deals involve buying an already-listed company to skirt the rigors and expense of an IPO. About 448 Chinese companies got publicly traded stocks in the U.S. through such deals from 2000 to 2011, according to research from the Singapore Management University.
Many of those companies were ill-prepared to meet stringent reporting rules and used small auditors that failed to catch accounting problems. Some were outright frauds. In June 2011 the SEC warned investors about the risks of reverse mergers in a special bulletin. Delistings, suspensions, and lawsuits followed.
Kerin says the exchange would need to be vigilant in policing listed companies to avoid problems similar to those the NYSE and Nasdaq faced over reverse mergers. "We just need to learn from their mistakes," he says. The exchange, he adds, would rely on Casin to do much of the vetting of Chinese companies. Peter Halesworth, founder of Heng Ren Investments LP, which has invested in U.S.-listed Chinese stocks, urges caution in opening U.S. markets to another big wave of Chinese companies. "The gaps that existed during the reverse merger crisis are pretty much still with us today," he says.
In the longer term, exchange executives say they have ambitions to open a regional exchange in Chongqing. The group also sees potential in the more than 100 million Chinese citizens with retail brokerage accounts. By attracting their trades to Chicago, the exchange could bump up its volume by as much as 15 million shares per day, says Anthony Saliba, a Chicago Stock Exchange board member whose company, Saliba Ventures Holdings LLC, will own 12 percent of the exchange if the deal happens.
Tapping those investors will be tricky because of China's controls on capital outflows. Brokers are nonetheless betting that regulators will find ways for citizens to move their money overseas. Saliba says his company has been in touch with firms that are looking "to allow their clients to trade in the U.S."
There's no guarantee the turnaround plan will work. A similarly small, historic venue, the National Stock Exchange, tried a relaunch of its own in 2015, introducing a different kind of order pricing. But the exchange failed to drum up trading activity. It handled only about 0.01 percent of U.S. stock trading, and turned itself over to NYSE Group Inc. in December.
The Chicago Stock Exchange has been up for sale for at least five years. A group including Goldman Sachs Group Inc., Bank of America Corp. and E*Trade Financial Corp. invested a total of $20 million for a minority stake in the venue in 2006.
Five members of Congress have written the SEC criticizing the deal. The commission extended its public comment period, drawing letters that questioned aspects of the acquisition. One figure from the reverse merger era, Benjamin Wey, has left fingerprints on the review process. In 2015 the U.S. Department of Justice charged Wey with securities fraud for engineering reverse mergers, then secretly accumulating ownership stakes in some of them and manipulating their share prices. Wey pleaded not guilty. The case is set for trial later this year.
Wey's company, New York Global Group, paid Sconset Strategies LLC $150,000 in the third quarter, in part to lobby members of Congress about "issues related to the purchase of the Chicago Stock Exchange," according to a report filed with Congress. It's impossible to tell from the filings whether the lobbying was aimed at supporting or opposing the deal. Wey, NYGG, and Sconset Strategies did not respond to repeated requests for comment. Kerin says the Chicago Stock Exchange has "absolutely nothing to do" with Wey.
A U.S. Casin subsidiary responded to some of the critical comment letters, saying concerns about the group's ownership have "no basis in fact." Exchange executives expressed frustration at some of the reaction to the deal. "There are detractors from this, but we think that we're the preeminent destination," says Jim Ongena, the exchange's general counsel. In the U.S., "we're trying to make Chicago unquestionably the second financial center, and an international financial center."
The bottom line: The Chicago Stock Exchange wants to become a hub for trading small and midsize companies and Chinese stocks.
Before it's here, it's on the Bloomberg Terminal.
LEARN MORE