Brexit Bulletin: What the EU Really Wants
From budget commitments to army bases, the EU27's red lines.
By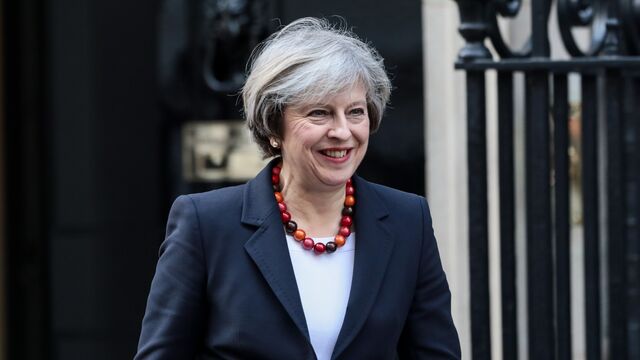 Sign up to receive the Brexit Bulletin in your inbox, and follow @Brexit on Twitter.
European Union governments are readying for the moment when Prime Minister Theresa May triggers Brexit.
To see what she's up against, Bloomberg reviewed the negotiating priorities of all the 27 other nations as leaders prepare to meet on Thursday for a summit in Brussels.
While May has already heeded their advice not to think the U.K. can stay in the single market while clamping down on immigration, her counterparts still have demands ranging from guarantees of citizens' rights to avoiding a financial hit. They have passed all of them along to European Commission negotiator Michel Barnier.
As for when the talks will be triggered, officials in May's team say the U.K. is increasingly seen as acting towards the end of March once she has secured parliamentary approval to do so. European Council President Donald Tusk said on Wednesday that his side would then meet in April.
Budgeting for Brexit
Anyone who bet on Chancellor of the Exchequer Philip Hammond saying "Brexit" in his budget speech would have lost money.
He may not have said the word, but leaving the EU underpinned his planning as he declared the economy well placed to weather any fallout and created a fiscal cushion in case it doesn't.
Although the Office for Budget Responsibility boosted its growth forecast this year to 2 percent from November's 1.4 percent, it remained cautious over the longer-term. It now expects growth of 1.7 percent in 2019 and 1.9 percent in 2020, below the 2.1 percent it previously anticipated for both years.

Breaking down the data, Samuel Tombs of Pantheon Macroeconomics said the OBR was "implicitly assuming a soft Brexit" given it reckoned trade and immigration would decline gradually, rather than sharply, after Brexit. The pro-Brexit Economists for Free Trade group said it should have been more optimistic about the U.K.'s ability to seal trade deals.
As for the fiscal outlook, Hammond said the budget deficit will be £51.7 billion for 2016-17, compared with the £68.2 billion forecast in November. That still leaves U.K. borrowing almost £100 billion more over the next six years than the government expected before last June's referendum.

All told, Hammond identified £26 billion of "headroom" to loosen the purse strings should the economy require a boost.
The amount could end up being smaller because the budget made no account of any severance payment to the EU, said Tombs. The government also projected £1.9 billion in additional taxes on bank profits over the next five years, even as some lenders indicate they may shift away from the U.K.
As Svenja O'Donnell and Robert Hutton report, the lack of giveaways and a controversial increase in tax on self-employed workers suggests this was not the budget of a government preparing for a snap election.
Taking, Not Making
May has vowed to use Brexit to "take back control," but the Bank of England risks discovering it has less influence than ever over financial supervision once the U.K. is out of the EU.
The central bank's oversight arm — the Prudential Regulation Authority — wants to be a maker, rather than a taker of the rules it applies to 1,700 financial firms, reports John Glover.
That ambition may be thwarted if British banks secure the significant access to the EU that they want, forcing them to accept regulations written by EU institutions that Britain would lack the power to shape.
"U.K. regulators are in a quandary," said Stephen Hammond, a Conservative lawmaker on the Parliament's Treasury Committee. "The worry overall is about the loss of influence."
Commonwealth Trade
Trade Secretary Liam Fox will today make a pitch for post-Brexit trade deals to the nations that once formed the British Empire.
Ministers from most of the Commonwealth will attend a London conference on Thursday. The problem for Fox is that 44 percent of U.K. exports go to the EU compared to less than 10 percent to the more splintered and global group. 
The government will argue that shows room for growth and many countries may be keen to land post-Brexit trade deals. For example, eight developing countries in the Commonwealth send around 10 per cent of their total global exports to Britain, according to the Commonwealth Secretariat.
One obstacle is that such economies could end up having to pay up to $800 million in extra duties to access the U.K. once it's outside of the EU if current preferential treatment isn't carried over, according to the Secretariat.
Brexit Bullets
The EU must avoid the "suicidal strategy" of alienating Britain on trade, says Hungary's top diplomat
American International Group says it plans to open an insurer in Luxembourg for business in the European Economic Area and Switzerland once the U.K. exits the European Union.
Fifteen British organizations and companies increased spending on EU lobbying for February, according to Transparency International data cited by Politico. Among them: Rolls-Royce and Lloyd's of London
The American Chamber of Commerce in Europe warns much of the investment in the U.K. made by U.S. companies is based on Britain's access to the single market and suggests many U.S. businesses will seek "another entry point" into the EU in the absence of a decent trade deal
London-focused property broker Foxtons says trading will remain "challenging" this year and sales volumes will likely be below 2016 if activity continues at current rates
Pret a Manger says just one in 50 job applicants is British and worries it will struggle if can't recruit EU nationals, reports the Guardian
 And Finally…

A year ago it was George Osborne who was delivering the budget, preaching the virtues of austerity and warning that a vote for Brexit would imperil the economy. Now out of office he expects to earn £650,000 for 48 days work at BlackRock, parliamentary filings showed on Wednesday. That's more than 13,500 pounds a day -- or about half the U.K. average annual wage.
For more on Brexit follow Bloomberg on Twitter, Facebook and Instagram, and see our full coverage at Bloomberg.com