Bond Pioneer Who Outsmarted Russian Sanctions Flops in China
By and
Russia's debt chief says plan to sell yuan bonds has stalled

Battling outflows, China proposed panda bond, Vyshkovsky says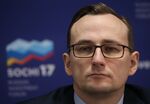 Being first is never easy.
Konstantin Vyshkovsky would know. As the head of the Russian Finance Ministry's debt department, he led the government's return to world markets in 2010 with the first bond offering since its default in 1998. Last year, with the country's biggest companies under sanctions, he outflanked western efforts to thwart a Eurobond deal and pulled off Russia's first sale in three years.
Yet even Vyshkovsky may be stymied after more than a year of efforts by Russia to become the first sovereign issuer to sell yuan debt to onshore investors. The goal by authorities in Moscow to hold the offering by using domestic infrastructure, and drafting it under Russian law, ran directly counter to China's key priority of limiting capital outflows, Vyshkovsky said in an interview.
"The project is hardly ready as of now," he said in Moscow. "We'll see if something changes in the course of the year."
As Russia continues to rewire its finances for life under sanctions, the pivot east has been slow to materialize. When it comes to capital movement, Moscow discovered Beijing has an agenda of its own.
China stepped up efforts to prevent outflows since late 2016, as the yuan headed for the biggest annual loss in more than two decades. That's prompted criticism for curbing overseas acquisitions and scuttling deals. 

Instead of allowing Russia to draw out investors, China countered with a proposal to issue panda bonds, or yuan notes sold in China's domestic debt market. For Russia, that option is a non-starter, according to Vyshkovsky.
"The amount must reliably reach the budget," he said. "A special permission is required to pull the raised funds out of China, but there's no assumption of any automatic withdrawal," which makes it "unacceptable for Russia as a sovereign borrower."
Russia is still waiting for a clear-cut answer from the Chinese regulator. The People's Bank of China didn't respond to faxed questions seeking comments.
"The Chinese regulator hasn't turned us down," Vyshkovsky said. "It's suggesting to consider panda bonds."
Read More: China gets stricter on forex transactions to limit outflows
Convenience and cost advantages were never the motivation for exploring an issue in yuan. The bulk of Russia's sovereign debt is in rubles, with a single issue in euros, and about a quarter of the total in dollars, according to data compiled by Bloomberg. Hungary became the first eastern European country to borrow in the Chinese currency with a 1 billion-yuan ($145 million) bond sale last April.
To borrow in yuan, Russia would need to pay at least "dozens of basis points" more than the cost of placing dollar debt to tempt investors, Vyshkovsky has said.
Under Siege
Steeled by three years of sanctions, Russia has learned to rely on local financial infrastructure to raise capital, using the investment branch of state lender VTB Group as the sole manager of its offerings in 2016. The government plans to issue as much as $7 billion of Eurobonds in 2017 after capping borrowing on international markets at $3 billion last year.
While the idea of yuan debt is "open to discussion," Vyshkovsky said Russia is borrowing abroad not because it needs the foreign currency but to pave the way for corporate issuers.
"The political course taken to expand the use of national currencies with China remains in place," he said. "We are prepared to set a benchmark for Russian corporates in yuan, given the understanding that they need borrowings in yuan."
Aluminum giant United Co. Rusal, which has a listing on the Hong Kong stock exchange, last month announced plans to sell up to $1.5 billion in the first-ever panda bonds issued by a Russian company.
Bank Pullback
Still, the shine is off the yuan. Banks from VTB Group to Gazprombank OJSC that issued dim sum bonds were hailed as part of Russia's pivot to Asia after tensions with the west flared over Ukraine. But all of the yuan issues were repaid at maturity rather than being rolled over, signaling that the lenders don't find the Chinese securities market worthwhile. 
While the government's bond sale was initially planned for last year, it's not off the table completely, and there's enough interest from Chinese investors to keep the idea alive, according to Vyshkovsky. Russia is counting on those who never before purchased foreign securities, he said.
But there's no room for error.
"The right conditions aren't yet in place," Vyshkovsky said. "This is a case when no mistake is allowed: image losses from an unsuccessful placement could be more serious than any reward from a successful one."
Chinese banks in Russia have helped establish a channel of communication with investors, he said. While Vyshkovsky concedes that "pessimism" prevails for now, at stake is Russia's ability to access capital with no end in sight for sanctions.
"There's a lesson in the story of sanctions and geopolitical risks," he said. "What's necessary is a diversification of risks and widening of opportunities."
Before it's here, it's on the Bloomberg Terminal.
LEARN MORE