Wilders Targets Turkey in Bid to Jumpstart Dutch Election Run
By and
Freedom Party leader rallies supporters at Turkish embassy

Voters in the Netherlands go to the polls on March 15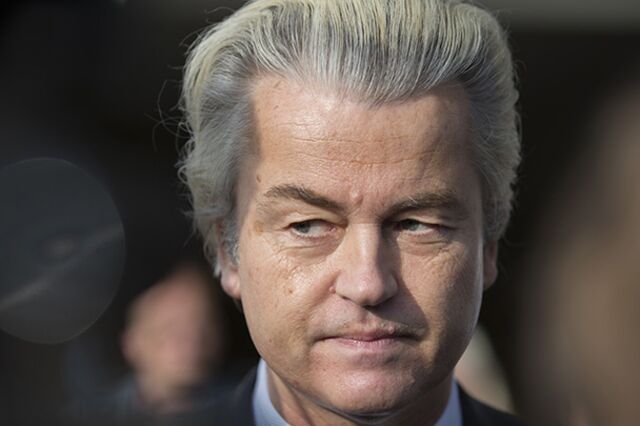 Dutch Freedom Party leader Geert Wilders sought to rally his anti-Muslim base a week before the general election, speaking to supporters in front of the Turkish embassy while holding a banner that read: "Stay away! This is our country" in both Dutch and Turkish.
The anti-Islam leader, who lives under constant police protection for his radical immigration views, is seeking to regain momentum as Turkey and the European Union waged a war of words this week. That culminated with Turkish President Recep Tayyip Erdogan suggesting that Germany was stuck in the Nazi era.

The dispute allows Wilders to tap into the populist anger at the core of his party's platform just as polls suggest his support is waning. Seven days before the March 15 election, Dutch Prime Minister Mark Rutte claimed the top spot in an aggregate of polls for the first time this year.
"The Turks have chosen to hold a referendum to give more power to the dictator Erdogan," Wilders told his supporters at the protest, who were outnumbered by members of the media. "I'd rather that they respect our Dutch soil and that they realize they have nothing to do here."
Dutch Bellwether
The Dutch vote will be watched as a bellwether for broader trends in Europe before France and Germany, two other founding EU members and the largest economies in the euro area, hold elections this year amid a groundswell of nationalist support.
The Freedom Party would take 23 seats in the 150-seat parliament compared with 25 for Rutte's Liberals, according to a Peil.nl poll released late on Tuesday. In the middle of January, Wilders's group was forecast to gain 33 seats, compared with 24 for Rutte's. Peil.nl projected three possible coalitions based on its latest polling, none of them involving the Freedom Party.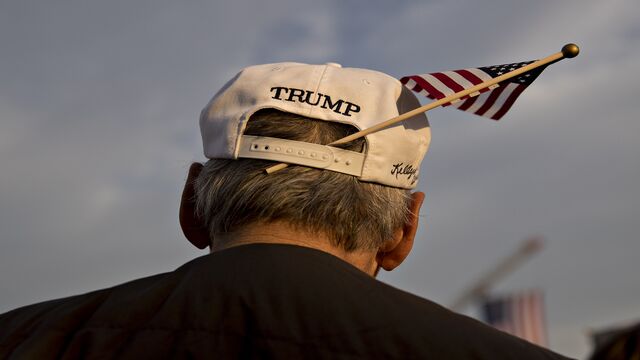 With 28 parties on the ballot, it could take an alliance between several different groups to form a government. And since most of the mainstream parties have ruled out cooperating with Wilders, it's doubtful that the Freedom Party will get a ruling slot.
It's "unlikely that a single party will obtain a majority –- hence, a coalition is inevitable," Credit Suisse analysts led by Anais Boussie wrote in a note. "Given the fragmented nature of this election round, we expect a coalition of at least four or five parties."
Labor Losers
One of the losers of the election looks to be the Labor Party led by Lodewijk Asscher, the deputy prime minister. It entered a coalition government with Rutte's Liberals in 2012 after taking 38 seats. The latest polls project it to gain between nine and 14 seats -- enough to earn a place in just one of the three possible coalitions projected by Peil.nl, and even then as one of five parties.
In an interview on Dutch radio on Tuesday, Asscher blamed Rutte for being dragged into a policy "competition" with Wilders and the Freedom Party, known as the PVV in Dutch, to chase votes, saying that it was "failing."
"In recent years Rutte has kept his mouth shut too many times," Asscher said. "Now that elections are coming, he's seeking competition with the PVV. I don't think that's very strong.''
— With assistance by Martijn Van Der Starre
Before it's here, it's on the Bloomberg Terminal.
LEARN MORE