Macron Says Some Reforms Will Take 5-10 Years to Put in Place
Mark Deen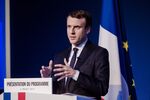 French presidential candidate Emmanuel Macron said that some of the reforms he plans if elected will take betweeen five and 10 years to put in place.
The overhaul of the French pension system, for instance, will take a long time. Changes to labor market rules and the unemployment insurance system have to be made quickly, he said on France 2 television.
"There are things that need to be done quickly and there are others that need to take time," Macron said. What matters is "the vision, the values, the direction we give to the country."
Before it's here, it's on the Bloomberg Terminal.
LEARN MORE