politics
Macron's French Bandwagon Gathers Pace With Cross-Party Support
By
Socialist heavyweights endorse former Hollande minister

Republican veterans hint at favoring Macron over Fillon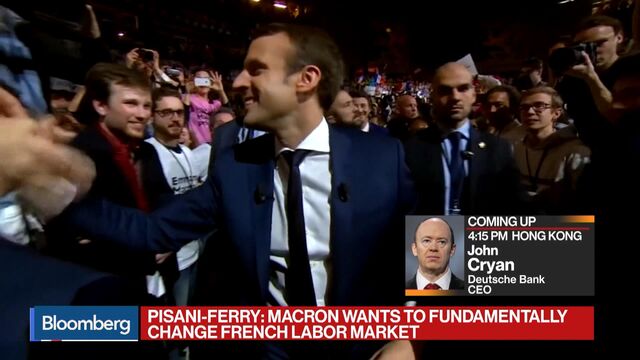 Emmanuel Macron is starting to pick up endorsements and goodwill for his presidential bid from across France's fractious political landscape.
Former Paris Mayor Bertrand Delanoe -- a Socialist -- entered the fray Wednesday stating that he is unequivocally backing the 39-year-old candidate rather than his party's nominee, Benoit Hamon. Dominique de Villepin, a former center-right prime minister, said he won't be voting for his party's candidate either and praised Macron's audacity and democratic credentials. Robert Hue, a former Communist Party leader, also spoke positively of Macron. And the list goes on.

For a monitor of European political risk, click here
Without an established party of his own, both explicit endorsements and more coded signs of support may help Macron to peel off partisans from France's main political families as he seeks to consolidate his position. His fortunes have been tracked by investors and officials around the world, anxious that the anti-euro candidate Marine Le Pen could secure a surprise victory in the May 7 runoff.
Delanoe said it's imperative to rally opposition to Le Pen and the Socialist party's candidate isn't realistic on policy issues.
"The candidate that is closest to my convictions as a Socialist, reformist, a European and a realist is Emmanuel Macron," Delanoe said on France Inter radio. "We need to give him maximum strength in the first round to beat Le Pen."

French bonds have fluctuated with the ebb and flow of the campaign with the extra yield investors demand to hold French 10-year debt instead of their German equivalents reaching a four-year high of 79 basis points last month. The spread widened by 2 basis points to 67 basis points at 3:26 p.m. in Paris.
Socialist Heavyweights
Daily rolling polls from both Ifop and OpinionWay show Macron holding steady 1 point behind Le Pen in the first round, with both candidates getting about a quarter of the electorate support. That would see the candidates from France's two main parties ousted before the runoff for the first time Charles de Gaulle created France's Fifth Republic in 1958. Macron would beat Le Pen by 20 points in the second round, OpinionWay said.
Claude Bartolone, the Socialist president of the National Assembly, said Tuesday that he's also considering voting for Macron. Patrick Braouezec, a communist and former mayor of Saint Denis, said he is backing him. Jean-Louis Borloo, former environment minister under Nicolas Sarkozy, is also pondering an endorsement, Le Monde reported. Even Alain Madelin, who argued for Thatcherite reforms for France as a presidential candidate in 2002, has praised Macron's planned reform of the French pension system.
Many heavyweight ministers in President Francois Hollande's government have remained silent so far. Le Figaro reported Wednesday that Foreign Minister Jean-Marc Ayrault is considering endorsing Macron and there is ample speculation in the press that Environment Minister Segolene Royal and Defense Minister Jean-Yves Le Drian may join the club.
Jacques Attali, special counselor to President Francois Mitterrand in the 1980s and later head of an economic reform committee under President Nicolas Sarkozy, added his name to the list Wednesday, saying he will vote for Macron.
One key figure still to show his cards is former Prime Minister Alain Juppe, who finished second to Francois Fillon in the Republican primaries. Juppe this week criticized Fillon for his inflammatory rhetoric as he rejected appeals from Republicans to step back into the race as a replacement candidate.
For more on Fillon's problems, click here
Fillon has been fighting to hold his campaign together as prosecutors prepare to charge him for embezzlement as soon as next week. Villepin also blasted Fillon for denigrating France's democratic institutions in his attempts to repel the prosecutor's allegations and said there is no way he will vote for him. Asked about Macron Monday, he pleaded patience and offered warm words.
"Let's not get ahead of ourselves," Villepin said on RMC radio. Macron is "someone I know well, someone with whom I am friendly, someone who has taken an audacious path. He's a democrat, I have no doubt about that."
(
Adds Jacques Attali in 10th paragraph.
)
Before it's here, it's on the Bloomberg Terminal.
LEARN MORE