business
Hedge Fund Clients Say Retreat to Slow in 2017 as Macro Beckons
By
Strategy seen as the biggest draw, Deutsche Bank survey finds

Oops: Last year investors predicted net inflows of $37 billion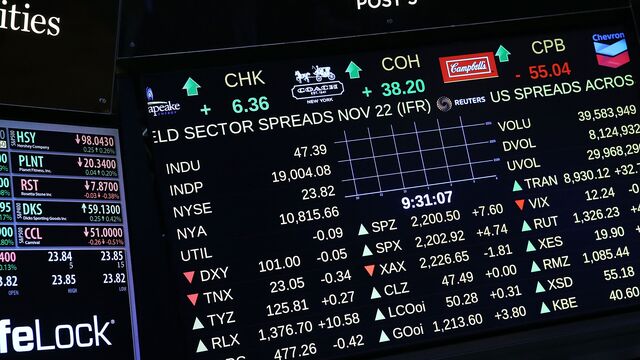 Hedge fund clients predict withdrawals from the industry will slow this year as institutional investors show faith in macro managers during a time of geopolitical instability, according to a survey by Deutsche Bank.
Respondents forecast a net $1 billion leaving the private partnerships in 2017, the survey released Wednesday shows. The prediction may be optimistic after last year's carnage, when clients pulled a net $70 billion -- the result of disappointing long-term returns combined with high fees.
To be sure, investors' predictions and their eventual actions can be out of sync. Last year, institutions predicted net inflows of $37 billion. 
This year's respondents said macro funds will be the biggest draw. On a net basis, 27 percent of the investors said they were planning to add to the strategy. After the surprise outcomes of the U.S. election and the Brexit vote in 2016, "the political road ahead appears equally, if not more, uncertain as policy makers globally diverge in their approach to spur economic growth," according to the bank's report examining the survey results.
Return dispersion also helps explain why investors are staying with the industry, Barry Bausano, chief executive officer of Deutsche Bank Securities, said in an interview. While funds climbed 5.5 percent last year, on average, according to data compiled by Hedge Fund Research Inc., the top quartile of managers posted returns averaging more than 11 percent. "Notable outperformers" are attracting attention, the bank wrote.
Quant Disruption
Quant strategies remain a popular choice.
"Technology is disrupting hedge funds" and even fundamental managers are embracing computer models for everything from big data to balance-sheet analysis, said Marlin Naidoo, the bank's head of hedge fund capital and consulting groups in the Americas. Seventy-nine percent of respondents now allocate to quantitative strategies, up from 70 percent last year, the tally found, and 46 percent of those surveyed said they plan to increase their allocation.
The rise in quants comes at the expense of classic stock pickers, who fell out of the top five most-sought-after strategies. Eighteen percent of investors said they were planning to cut back on fundamental equity long-short funds, the most of any strategy.
Fees are very much on investors' minds. Seventy-seven percent said they want managers to offer hurdle rates, and 71 percent said management fees should be reduced as assets grow. 
Deutsche Bank surveyed 460 investors with about $1.9 trillion under management or advisement.
Before it's here, it's on the Bloomberg Terminal.
LEARN MORE