French Banks Still Blackball Le Pen as Companies Reach Out
By and
National Front leader holds first talks with Cac 40 CEO

French mid-cap lobby group requests meeting this month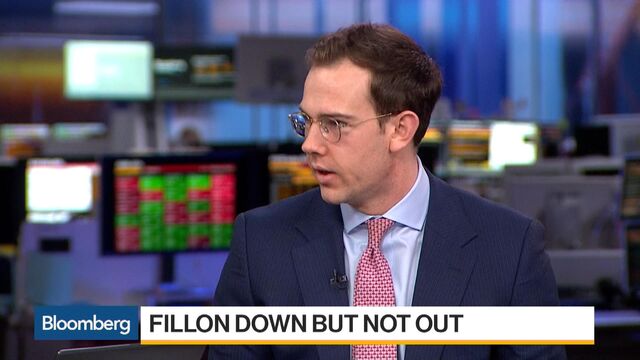 Marine Le Pen is making inroads with corporate France weeks before the presidential election, though the country's lenders and investors are still shunning her anti-euro agenda.
With most polls showing the far-right candidate remains favorite to lead the first-round of voting on April 23, the business community's united front against the nationalist leader is beginning to fracture.

Le Pen has held her first meeting with the chief executive officer of a blue-chip French industrial company, her chief of staff Nicolas Lesage said in an interview, declining to give further details. Such talks would breach the code of conduct that France's most important lobby group, AFEP, imposes on its CEOs. The lobby for mid-cap companies, Medef, has asked for a meeting with the National Front leader this month, a spokeswoman said.
"We must keep all possible doors open and find those to talk to," said Paul Boury, president of Paris-based lobbying firm Boury, Tallon & Associates, which represents several major corporations and trade associations. "CEOs place their bets," he added.
For a dashboard on European political risk, click here
As Le Pen starts to build her influence among France's executive class, her biggest rival for the presidency, Emmanuel Macron, is also broadening his support. The 39-year-old independent, running in his first ever campaign, has been picking up endorsements and goodwill from across France's fractious political landscape bolstering his position as overall front-runner.
Macron and Le Pen are neck-and-neck for the first round of voting. A Harris poll released Thursday showed Macron one point ahead at 26 percent with Fillon third at 20 percent, though most recent surveys have shown Le Pen with a slim advantage in the first ballot. All project that Macron would win the runoff by a wide margin, with Harris suggesting 65 percent to 35 percent.
Support From Both Sides
Socialist Foreign Minister Jean-Marc Ayrault on Thursday hinted that supporters of his party should consider voting for Macron rather than the group's official candidate Benoit Hamon, who has adopted a more radical platform than the current government.
Macron's program "has some elements that are totally positive, though it also needs some clarifications, and has generated clear momentum," Ayrault said on France Info radio. "I ask myself how we should stop Le Pen, to protect the interests of the country, and how to stop Francois Fillon being elected. That's a question that Socialists have to ask, all Socialists."
On Wednesday, Jacques Attali, special counselor to Socialist President Francois Mitterrand in the 1980s, and former Paris Mayor Bertrand Delanoe -- also a Socialist -- both said that they'd be voting for Macron rather than Hamon. Dominique de Villepin, a former center-right prime minister, praised Macron's audacity and democratic credentials and said he won't be voting for the Republican candidate Fillon, who's seen his campaign battered by a criminal investigation into his finances.
"The candidate that is closest to my convictions as a Socialist, reformist, a European and a realist is Emmanuel Macron," Delanoe said on France Inter radio. "We need to give him maximum strength in the first round to beat Le Pen."
Le Pen's rise to electoral prominence poses a dilemma for French executives. Still funded by her father Jean-Marie, who has been convicted multiple times for inciting racial hatred and Holocaust denial, the party's stigma is still strongly felt by many French people.
By meeting with the nationalist, companies risk lending credibility to a party that many see as a threat to Europe's economic stability. By shunning her, they leave themselves unprepared if she does pull off a victory, which Antonio Barroso, a political analyst at Teneo Intelligence in London, sees as a 20 percent chance.
French bonds have fluctuated with the ebb and flow of the campaign with the extra yield investors demand to hold French 10-year debt instead of their German equivalents reaching a four-year high of 79 basis points last month. The spread widened for a third day on Wednesday, edging up 1 basis point to 65 basis points.
'No Time to Waste'
Financial institutions including Credit Agricole SA, Societe Generale SA and Axa SA have avoided contact with Le Pen's team, even though her policy plans threaten to upend the banking system, according to Le Pen's main economic advisers Jean Messiha, Bernard Monot and Mikael Sala.
"I have no time to waste speaking with a candidate who manipulates data and reality and whose platform doesn't stand a chance of ever being implemented," Patrick Artus, Natixis chief economist, said in an interview. "I can understand that colleagues outside France may need a better understanding, but I know what her plan consists of and I would gain nothing from asking her more."
The banking industry has so far proved impervious to Le Pen's work to clean up the party's image by focusing on the economy. The research department at Credit Agricole has had no meetings with the anti-euro candidate, according to a person at the bank who spoke on the condition of anonymity. A spokesperson for fund manager Amundi SA said it had no contact with any candidates.
The French banking federation declined to comment as did a spokespeople for BNP Paribas SA and Credit Agricole. Axa's press office didn't respond to a request for comment.
"Banks in general don't want to interfere in the political debate," Societe Generale CEO Frederic Oudea said in an interview with Bloomberg Television. "Is it fair to say that as a French bank we understand a little bit more of her than people in the U.S.? We have a relatively good understanding of the debate."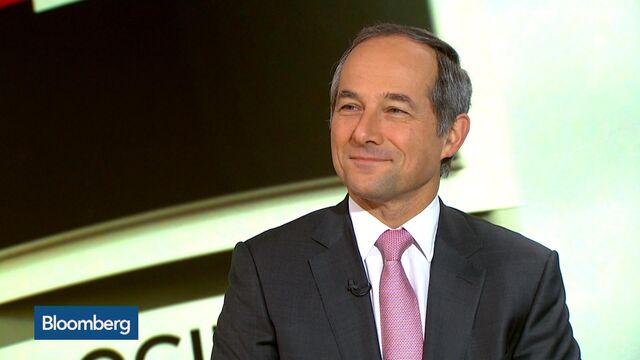 Before it's here, it's on the Bloomberg Terminal.
LEARN MORE