FBI's Comey Says 'You're Stuck With Me' for Another Six Years
By
Director spoke about cybersecurity issues at Boston conference

Comey didn't address Russia probe, Trump's accusations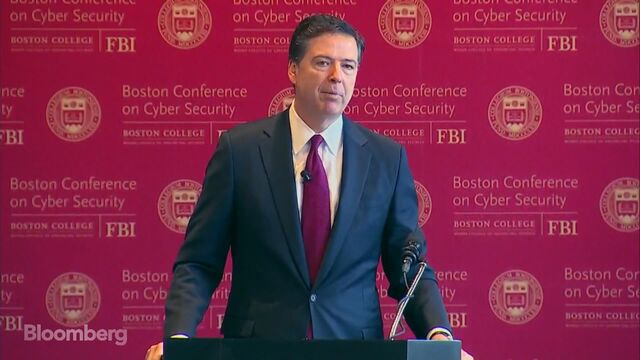 FBI Director James Comey signaled he has no plans to resign despite once again being at the center of a political storm -- this time over probes into Russian hacking of the 2016 election and his request that Justice Department officials reject President Donald Trump's claims that his predecessor "tapped" his phones.
"You're stuck with me for about another six and a half years," Comey said Wednesday at a cybersecurity conference in Boston, referring to the time remaining in his 10-year appointment to the post.

Trump claimed -- without offering evidence -- in tweets on Saturday that former President Barack Obama had wiretapped his phones at Trump Tower in New York during the campaign, a charge refuted by Obama aides and former Director of National Intelligence James Clapper. Comey wanted the Justice Department to publicly rebut the claim, according to a U.S. official who requested anonymity in order to discuss sensitive issues, but the department so far has remained silent.
Comey didn't address the controversy during his speech, which was focused on cybersecurity threats, or in response to questions from the audience afterward.
But he said hacking attacks are moving beyond just stealing money and data to affect the U.S. economy and security. "They're increasingly attacks on our fundamental rights -- the rights guaranteed to us as free people especially here in this great country," Comey said at the conference hosted by the FBI and Boston College.
Comey, 56, called on companies to report hacking attacks to the FBI and develop relationships with the bureau before attacks happen. "The majority of intrusions in this country are not reported to us," he said.
'It's a Crime'
Companies shouldn't retaliate by trying to hack back against their attackers, Comey said. "Don't do it; it's a crime," Comey said. "It's not only against the law but it runs the risk of tremendous confusion in a crowded space."
Comey also complained about the increasing ease with which smartphones and other devices encrypt the contents of their data.
From October to December 2016, about 1,200 of 2,800 devices seized by law enforcement couldn't be accessed by FBI personnel due to encryption, Comey said. "The advent of default, ubiquitous strong encryption is making more and more of the room in which the FBI investigates dark," he said.
Comey's speech in Boston came just a day after WikiLeaks released documents and files alleging that CIA hackers have developed tools letting them break into devices to monitor conversations and messages before they can be encrypted.
Comey didn't comment on the disclosure. But he said using hacking tools to break into phones isn't always efficient or dependable. "While having other technical tools can be useful, it's incredibly expensive and it doesn't scale," he said. "It can't be used broadly because it's perishable."
Tensions With Trump
While Trump publicly praised Comey days after his inauguration, saying "he's become more famous than me," the president has also lashed out at the FBI over "leakers" he says are undermining his administration. He's also criticized findings by the intelligence community, including the FBI, that Russia interfered in last year's election.
Twists and question in the Trump-Russia saga -- a QuickTake Q&A
That tension with his superiors is a recurring theme for Comey, going back to his time as deputy attorney general under President George W. Bush, when his role in opposing a classified warrantless eavesdropping program put him into direct conflict with top White House officials.
Last year Comey infuriated the technology industry and privacy advocates when he tried to force Apple Inc. to hack into an iPhone used by a dead terrorist, while his public statements about a probe into emails sent by Hillary Clinton and her aides fueled Democratic accusations that he cost the former secretary of state the presidency.
But regardless of who he antagonizes, it's hard for any president to get rid of an FBI director. Former Director William Sessions, who was ousted by President Bill Clinton and Attorney General Janet Reno in 1993, is the only one forced from office in the bureau's history.
Before it's here, it's on the Bloomberg Terminal.
LEARN MORE