ECB PREVIEW: Market Betting for 2018 Rate Rise Seen as Premature
By and
Eonia, euribor trades favored to hedge economic outlook change

Most analysts expect ECB to upgrade its inflation predictions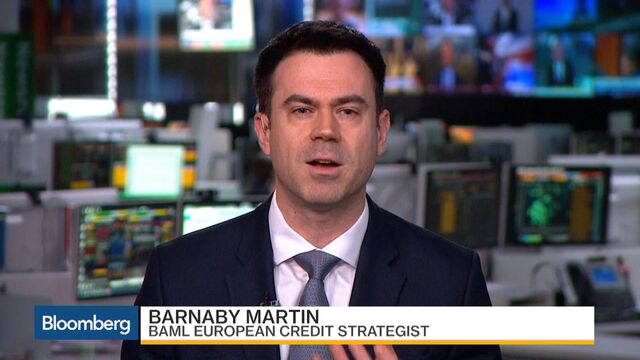 The market is probably running ahead of itself in pricing the European Central Bank's first interest-rate increase as early as mid-2018.
Goldman Sachs Group Inc. expects the ECB to raise its deposit rate no sooner than "late 2019", while adding that the region's improving economic data could make it act faster. Morgan Stanley predicts the rate to be held at the current level of minus 0.4 percent through this year and next, and Bank of America Merrill Lynch sees an increase only after the central bank's asset-purchase program has been phased out.
Still, the ECB President Mario Draghi will probably acknowledge the improved economic outlook at Thursday's policy review, appeasing the Governing Council's more hawkish members, and banks including JPMorgan Chase & Co. now expect it to raise its 2017 inflation outlook. The euro overnight index average, or eonia, now prices an increase of almost 10 basis points in the deposit rate for June 2018, compared with a six basis point rise estimated after the monetary authority's last meeting in January.
"We doubt that the central bank is about to make the depo rate less negative, economists at Morgan Stanley including Daniele Antonucci wrote in a note to clients dated March 6. "For now, it's likely to tread very carefully, to avoid currency appreciation and a tightening in financial conditions. However, over time, the ECB could change its forward guidance."

Analysts and investors will scrutinize the ECB statement on Thursday to look for any changes in language. Rate setters "continue to expect interest rates to remain at present or lower levels for an extended period of time, and well past the horizon of our net asset purchases," the central bank said in its last statement.
Any removal of the statement on rates staying at current levels or lower may spur speculation that the ECB could consider raising rates before its so-called quantitative easing program ends, Bank of America Merrill Lynch strategists including Sphia Salim wrote in a report to clients on March 3.
ECB Trades
"While it may be premature to remove the statement, with various political risks on the horizon, it can be a cheap and effective concession to the hawks," they added. Below is a compilation of trade strategies and other observations published by banks ahead of the ECB meeting:
While most analysts expect steeper curves in European rates, largely driven by the shift in the ECB's bond buying toward shorter maturities, they favor hedging any change in the economic outlook and recommend conditional short positions and steepeners in the front end
Citigroup recommends hedging risks via euribor options; Barclays favors reds/greens eonia steepeners, while Deutsche Bank enters short 3-year forward 2-year eonia
Thursday's ECB meeting may not have a significant impact on the euro; "the ECB's likely upgrade of the economic and inflation outlook should be important for the euro later this year, but not for now," Nomura strategist Yujiro Goto writes in client note
More Expectations
Most analysts expect the ECB to lift its inflation projections this week, with a potential large upward revision to 2017 headline CPI forecast; still, see core inflation estimates are seen little changed, with risks to the downside for 2018 and 2019
The T-LTRO program will come to an end and won't be rolled over, according to most strategists. The option is likely to be kept open, and used if pressures on the banking system increase as a result of exogenous shocks, according to Deutsche Bank. The final operation of the latest program is on March 23
The recent pickup in euro-zone PMIs has prompted JPMorgan to raise its growth forecasts for the first and second quarters of this year to 2.25 percent 2 percent, respectively. "The euro area seems poised to enjoy its best growth year since the 2010 short-lived rebound in the aftermath of the financial crisis," the bank's economist Marco Protopapa wrote in a note to clients on March 3
Below is a table of the ECB's current inflation forecasts and the levels to which the central bank may raise them on Thursday, according to banks:
2017
2018
2019
Eurosystem staff projections from Dec. 2016
Headline
1.30%
1.50%
1.70%
Core
1.10%
1.40%
1.70%
JPMorgan
Headline
1.90%
1.40%
1.60%
Core
1.00%
1.30%
1.60%
NatWest
Headline
 significant      upward          revision
1.50%
1.70%
Core
1.10%
1.40%
1.70%
Barclays
Headline
1.80%
broadly unchanged
RBC
Headline
close to 1.8%
small upward revision
1.70%
BofAML
Headline
1.7-1.8%
Core
          unchanged, if not slightly lower
Citigroup
Headline
1.80%
Credit Suisse
Headline
1.70%
1.50%
Core
                       unchanged


Before it's here, it's on the Bloomberg Terminal.
LEARN MORE