ECB Inflation Outlook Set to Keep Bar High for Stimulus End
By
President Draghi to address media after decison on Thursday

Inflation outlook said to be little changed for 2018 and 2019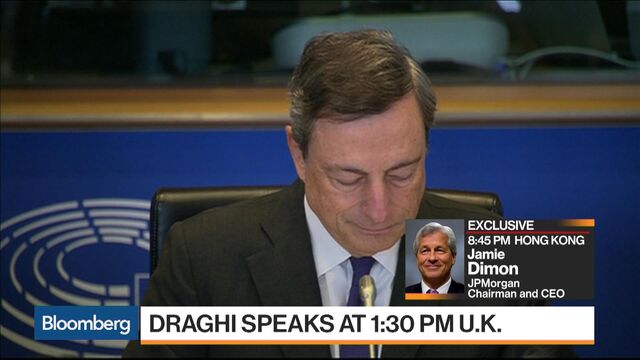 For Mario Draghi, 'all talk and no action' at the European Central Bank may be just fine this week.
The ECB president essentially preempted Thursday's monetary-policy decision back in December, when he announced that bond purchases will be extended until at least the end of 2017. With updated inflation forecasts said to be little changed for 2018 and 2019, he's expected to reiterate that plan and dismiss any calls to start the process of reining in stimulus.
The projection for this year will be raised to about 1.7 percent from the current 1.3 percent, according to euro-area officials familiar with the matter. The outlook for next year will be increased to approximately 1.6 percent from 1.5 percent, and the rate for 2019 will remain unchanged at 1.7 percent, said the people, who asked not to be identified because the forecasting process is confidential. The projections aren't final until they are published, and a spokesman for the central bank declined to comment on the matter.
While euro-area inflation is currently at 2 percent for the first time in four years, even the more-critical members of Draghi's Governing Council have acknowledged his concerns: price growth is largely driven by energy rather than core goods and services, and high unemployment shows the economy still has slack. Keeping its current stance allows the ECB to put off exit talks while it gauges how the region weathers the economic and political risks swirling around it.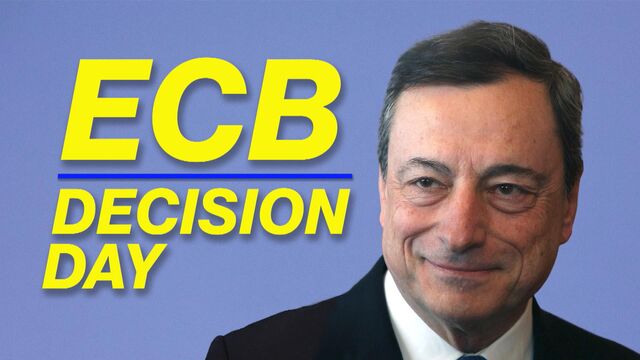 "The ECB made a shrewd move taking monetary policy off the table for the whole of this year," said Simon Wells, chief European economist at HSBC in London. "Most euro-zone countries will be unlikely to congratulate it for raising borrowing costs and dampening the recovery, while it won't be criticized for letting inflation run a bit higher."
Possible Timeline
The Governing Council's policy decision will be announced at 1:45 p.m. Frankfurt time and Draghi will hold a press conference 45 minutes later. Economists surveyed by Bloomberg predict the central bank will keep interest rates unchanged and reiterate that its monthly bond-buying program will run until at least December, slowing to 60 billion euros ($63 billion) in April from the current 80 billion euros. Few see much chance of any significant change in policy language.
Click here to set a reminder to watch the ECB announcement live.
The council also doesn't plan to announce a fresh round of long-term loans to banks, according to people familiar with the debate. The last of the targeted longer-term refinancing operations, which have so far delivered 570 billion euros to lenders to encourage credit supply to companies and households, is scheduled for March 23. 
The stance on TLTROs could still change when policy makers meet, and an ECB spokesman declined to comment. The program could be renewed later if economic conditions worsen.

The policy meeting comes as the Netherlands prepares for March 15 elections, with Geert Wilders' euro-skeptic Freedom Party among the contenders to place first. Two days later, Group of 20 finance chiefs will seek a better sense of any U.S. trade protectionism at a meeting in Baden-Baden, Germany.
Political Tensions
A chief worry is France, where Marine Le Pen has promised to renegotiate the country's membership in the European Union and the single currency if she is elected president in May. Germany heads to the polls in September.
"The ECB has definitely a close eye on political developments," said Florian Hense, an economist at Berenberg in London. "As sluggish growth and high unemployment in some euro-zone countries continue, and fuel the anti-EU/euro sentiment and approval of populist parties, the ECB will very cautiously reduce the level of current monetary accommodation."
Yet for all the apparent clarity on the future policy path, Draghi will face plenty of questions.
Scarcity Concerns
He'll probably be asked to address signs that the quantitative-easing program is struggling to find sufficient eligible assets to buy. Purchases of German bonds yielding less than the deposit rate, minus 0.4 percent, have intensified and last month the volume of Portuguese debt bought was the lowest since the program started.
He may also be queried on the extent to which the ECB might overshoot its inflation goal of just-under 2 percent, after the rate quadrupled in the past four months. Draghi, concerned that core inflation and wage growth remain feeble, will probably stress underlying weaknesses.
"The ECB keeps saying that its policies are effective but still maintains a very dovish bias, with promises of more if needed," said Anatoli Annenkov, an economist at Societe Generale in London. "The ECB can play an important role in feeding more positive views on the general recovery and thereby support confidence."
So far, calls for monetary tightening have come largely from German media and politicians, urging higher rates and an end to QE. German Finance Minister Wolfgang Schaeuble called on Thursday for a "timely entry into the exit" from stimulus policies. Some market indicators point to the possibility of a rate hike in 2018 and BNP Paribas has predicted the deposit rate will be increased this September.
Even the most hawkish comments from the Governing Council don't go that far just yet though. Executive Board member Sabine Lautenschlaeger has said any move toward withdrawing stimulus should be gradual. Her colleague Yves Mersch suggested a first step could be a review of the ECB's pledge that rates can still fall further -- a proposal seconded by Bundesbank President Jens Weidmann.
"An accommodative monetary policy certainly continues to be appropriate," he said in a speech last week, "though opinions differ over the right degree of monetary accommodation and the point in time at which the price outlook will have firmed enough to justify a change in communication and ultimately in the monetary policy stance."
Before it's here, it's on the Bloomberg Terminal.
LEARN MORE