Doctor, Hospital Groups Line Up Against GOP Health Proposal
By and
American Medical Association says it 'cannot support' GOP bill

Top hospital, doctor lobbying groups oppose Republican plan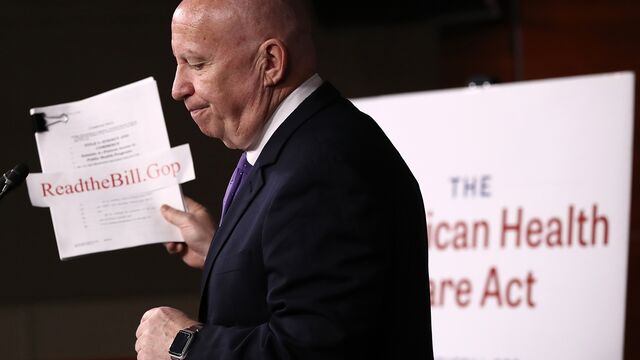 The Republican plan to replace Obamacare has a health problem.
On Wednesday, the U.S.'s biggest advocacy group for doctors came out against House Republicans' legislation, while the insurance lobby expressed concerns with the bill, adding to growing opposition from the country's top trade groups for physicians and hospitals who worry that it will leave more people uninsured or with limited coverage.
In a letter to Congress, the American Medical Association said it "cannot support the AHCA as it is currently written," referring to the American Health Care Act, as the Republican proposal to repeal and replace the Affordable Care Act is named. The association calls itself the largest physician advocacy group in the country, and backed the nomination of Tom Price as President Donald Trump's Health and Human Services secretary and point person on the health law.
The association's letter adds to growing objections to the bill, which would eliminate much of Obamacare and replace it with smaller tax subsidies to buy insurance. In the last several days, other major physician groups, including the American College of Physicians, the American Academy of Family Physicians and the American Psychiatric Association, have said they have serious issues with or outright oppose the plan. Together they represent hundreds of thousands of U.S. doctors and health professionals.
Medicaid Concerns
America's Health Insurance Plans, which represents some of the largest U.S. insurers, praised some pieces of the Republican proposal but raised concerns that it wouldn't adequately fund Medicaid and that the tax credits wouldn't be enough to add the needed mix of younger, healthier people and older, sicker people to the market.
"Tax credits related to age as well as income will help ensure that more people stay covered, and are the most efficient and effective way to allocate tax-payer dollars," AHIP Chief Executive Officer Marilyn Tavenner wrote to GOP committee leaders on Wednesday.
Similarly, the new Medicaid funding formula in the bill "could result in unnecessary disruptions in the coverage and care beneficiaries depend on," Tavenner wrote.
White House spokesman Sean Spicer weighed in on doctors' concerns. Republicans had gotten "tremendous input" from doctors in writing the bill, he said, citing Price, who is an orthopedic surgeon. "You have a doctor in charge of the administration's effort to work with Congress, you've got several physicians and other medical professionals in Congress that are talking about the experiences they had," he said Wednesday at a press briefing.
Other Groups
Other industry trade groups have stayed largely neutral, including drugmakers and biotechnology companies. The health insurance lobby hasn't yet taken a position on either side.
The biggest hospital groups, the American Hospital Association and the Federation of American Hospitals, also have said they have serious concerns with the proposal.
"We cannot support The American Health Care Act in its current form," the American Hospital Association, which represents about 5,000 U.S. hospitals, said in a March 7 letter to Congress. The Federation of American Hospitals, which represents for-profit chains including HCA Holdings Inc. and Community Health Systems Inc., also said it had "significant issues" with the plan.
"We want to make sure that whatever comes out of this change really supports particularly those low-income Americans, who frankly don't have the resources to afford coverage," Chip Kahn, CEO of the hospital federation, said Wednesday at the health insurance forum in Washington.
Seniors' Lobby
AARP, the lobbying group for seniors, also has come out in opposition to the GOP plan, calling it the "special interest health care bill" because it would hike the cost of health coverage for seniors while giving tax breaks to drugmakers and insurance companies. In addition, the Club for Growth, a limited-government backer, called it "a warmed-over substitute for government-run health care" and criticized it for not including provisions to allow insurers to sell plans across state lines.
The legislation is being considered Wednesday by two House committees as Republican leaders attempt to get it to the floor quickly for a vote. Congressional actuaries have yet to issue a "score" that will show how much the bill will cost or save taxpayers, and how many people will lose or gain insurance.
Obamacare provided insurance to about 20 million people, bringing the U.S. uninsured rate to a record low. Under the Republican plan, about 2 million to 4 million people would lose coverage in the individual market starting in 2020, while another 4 million to 6 million would lose their Medicaid coverage, according to an estimate on Tuesday from S&P Global Ratings.
The GOP plan has run into problems outside the health-care industry as well. Conservatives have said they may not support it in Congress, which could imperil its passage in the House, or in the Senate, where Republicans have only a razor-thin majority. It's also been panned by health experts who say it will weaken insurance coverage.
Trump ran on a promise to repeal the 2010 law known as Obamacare, which he has said reduces employment and hasn't worked to improve health care, citing rising premiums and markets where health insurers have pulled back.