China Trade Deficit Masks Strength Risking U.S. Trade Spat
Bloomberg News
Exports are poised to increase most since 2012, ING forecasts

China trade deficit unlikely to continue, ANZ economist says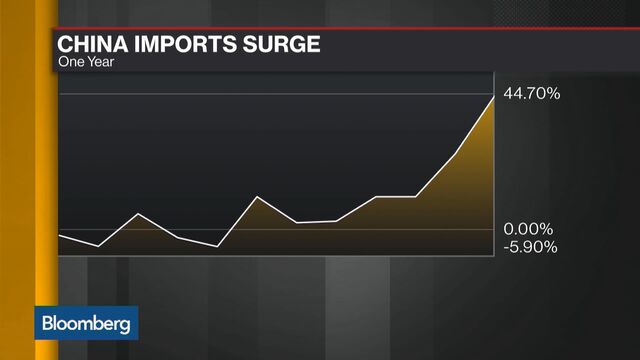 China trade hawks can hold off on celebrating for now. Despite the rare trade deficit China chalked up in February as imports surged the most in five years, underlying data suggest exports are on a rising trajectory that risks fanning trade tensions with the U.S.
Shipments in January and February combined rose 13.3 percent and both the official and Caixin purchasing managers indexes for exports rose last month to the highest levels in more than two years. Analysts said seasonal factors linked to the annual week-long Lunar New Year holiday help explain February's trade deficit, the first in three years.
Exports are poised to gain support this year from a weaker yuan and indications of stronger U.S. consumer demand. That's unlikely to sit well in a Donald Trump White House bent on reducing the trade deficit, or with Commerce Secretary Wilbur Ross, who said last week specific measures against China will be announced as soon as a proper case is prepared.
To read more: Chinese Imports Surged in February as Domestic Demand Heats Up
"Export growth this year is set to be the strongest since 13.3 percent in 2012" in yuan terms, according to Tim Condon, head of Asian research at ING Groep NV in Singapore. "That acceleration and a wide trade surplus could exacerbate trade tensions with the U.S."
Condon sees exports surging 10 percent this year, in yuan terms, and the trade surplus narrowing slightly to 3.2 trillion yuan ($463 billion) from 3.4 trillion yuan last year.
China is continuing a rapid swing away from factory deflation with producer prices, scheduled for release Thursday, estimated to have surged 7.7 percent, the most since 2008. That shift is helping restore exporters' margins, boost profits, and cut real borrowing costs.
At the same time, the 38.1 percent surge in China's February imports, driven by factors including recent commodity price increases, can't be sustained, according to economists from Capital Economics Ltd. and RBC Capital Markets LLC.

"The cyclical upswing in Chinese activity is largely attributable to fiscal stimulus to support gross domestic product growth above target," said Sue Trinh, head of Asia currency strategy at RBC in Hong Kong. "It seems doubtful China can keep relying on this method of stimulating growth without raising concerns about fiscal sustainability."
With Peter Navarro, Trump's top trade adviser, saying the U.S. deficit is both an economic and security risk, trade is now near the top of the Washington agenda, according to a report by Tom Orlik, the chief Asia economist at Bloomberg Intelligence in Beijing.
Without action to close the trade deficit, "foreigners will eventually own so much of America that there will be nothing left to trade," Navarro said at an economists' conference in Washington on Monday.
A report on the U.S.'s trade policy agenda for this year published by the Office of the U.S. Trade Representative linked the loss of U.S. manufacturing jobs to China's 2001 entry to the World Trade Organization.
That said, Treasury Secretary Steven Mnuchin has struck a relatively moderate tone toward China. Last month, he said in an interview that the U.S. wouldn't rush to judgment on China's currency policy, noting his department has an established process for determining whether countries are manipulating their exchange rates. And Mnuchin may be preoccupied with staffing his own department, as his picks for the top ranks of the U.S. Treasury are stalled due to resistance from White House aides, according to people familiar with the matter.
Still, Chen Deming, China's former commerce minister, said Monday he worries a trade war with the U.S. is coming, and warned it would hurt both countries and leave a trail of destruction across Asia.
Despite an overall trade deficit in February, China still recorded a trade surplus with the U.S. of $10.42 billion, down from $21.42 billion a month earlier. The U.S. trade deficit widened to the largest in almost five years in January.
"February's trade deficit, which was mainly driven by the strong rebound in imports, is unlikely to continue in the coming months and indicates little change in China's trade dynamics," said Betty Wang, an economist at Australia & New Zealand Banking Group Ltd. in Hong Kong.
— With assistance by Kevin Hamlin
Before it's here, it's on the Bloomberg Terminal.
LEARN MORE