markets
China's Imports Surge in February, While Exports Miss Estimates
Bloomberg News
Year-on-year comparatives skewed by Lunar New Year holidays

Trade deficit in February is first negative reading in 3 years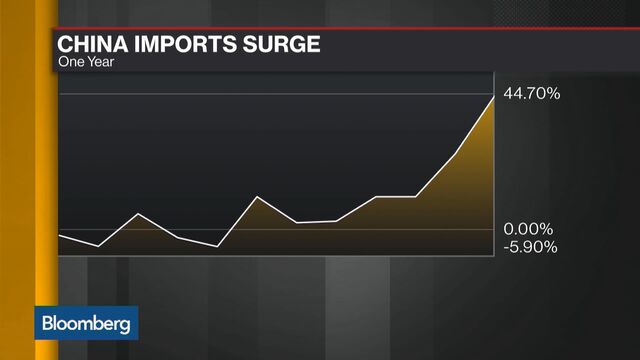 China's imports surged in February from a year earlier with the nation posting a rare trade deficit as exports slipped. Analysts said seasonal factors mostly explain the swings.
Key Points
Imports soared 38.1 percent in U.S. dollar terms, almost double economist projections
Exports dropped 1.3 percent versus estimated 14 percent increase in Bloomberg survey
Trade deficit was $9.15 billion, the first negative reading in three years. That compared with projections for a $27 billion surplus
Big Picture
Economists said the results were skewed by the week-long Lunar New Year holidays that shutter factories and ports across the nation. The holiday occurred in February 2016 versus late January this year, distorting base year comparisons. Taking January and February data together, the imports figures suggest resilient domestic demand while exports are getting a boost from an improving global outlook.
The world's largest exporter faces more challenges and uncertainties. President Donald Trump has accused China of unfair trade practices and is now in a position to carry out threats, with Commerce Secretary Wilbur Ross sworn in. Measures will be announced "as soon as we have a proper case," Ross said in a Bloomberg Television interview last week.

Economist Takeaways
"The latest trade data suggest that, seasonal distortions aside, both exports and imports strengthened at the start of 2017," Julian Evans-Pritchard, a China economist at Capital Economics in Singapore, wrote in a note. Surging imports reflect rising commodity prices and external demand probably will remain fairly strong in coming quarters and continue supporting shipments, he said.
"Getting a clear read on China's trade at the start of the year is tough," Bloomberg Intelligence economists Tom Orlik and Fielding Chen wrote in a report. "This year, it's especially difficult as calendar and base effects compound. That said, the early signs are positive, with exports registering solid growth and imports way up."
"Imports surged as economic activity is on the recovery and on the increase in commodity prices," said Wen Bin, a researcher at China Minsheng Banking Corp. in Beijing. "Exports missed estimates mostly because trade is generally very volatile in the first two months due to the Chinese New Year factor," he said, adding that data for the first two months show that the external sector this year is better than last year.
The Details
— With assistance by Miao Han, Xiaoqing Pi, Jeff Kearns, Kevin Hamlin, Jake Ulick, and Yinan Zhao
Before it's here, it's on the Bloomberg Terminal.
LEARN MORE