China Must Make Good on Xi's Trade Champion Vow, Says Europe
By and
Xi needs to follow rhetoric with real reforms, Malmstrom Says

EU Trade Commissioner speaks in interview in Singapore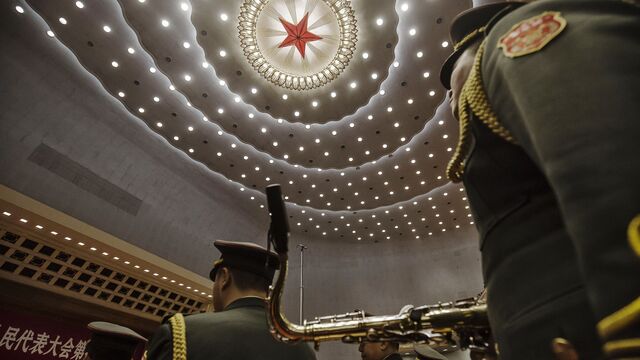 Chinese President Xi Jinping needs to follow his words of support for free trade and globalization with action, according to the European Union's trade chief.
"The whole world would hope that China could take a little more of global leadership on these issues, it would be important for the whole world," EU Trade Commissioner Cecilia Malmstrom said on Wednesday in an interview with Bloomberg Television in Singapore. "We hope very much they would pursue the reforms they have intended and announced."
While China has clashed with Europe over issues including its shipments of steel and export restrictions on raw materials, the protectionism of U.S. President Donald Trump and the recent championing of free trade by Xi potentially presents the EU with an opportunity in Asia.
The 28-nation bloc is grappling with challenges such as the U.K.'s planned departure from the EU, the demise of talks with Washington on a free-trade pact, Russian meddling in eastern Europe and surging populism. Xi though is advocating for the international system of trade rules that has underpinned the global economy for decades -- speaking in Davos in January he likened protectionism to "locking yourself in a dark room."
The EU already has concluded trade pacts with South Korea and Singapore, and Malmstrom said talks on an accord with Japan are "very advanced."
'Level Playing Field'
Still, large obstacles remain between the EU and China reaching an investment agreement, and negotiations have already been going on for some years.
The investment agreement "hasn't advanced a lot," Malmstrom said. "We are hoping that we can take a step forward. There are certain reforms that China needs to make and maybe they are not really ready to do that yet."
"Unfortunately the reality in China today is not so bright, it is difficult for European and other businesses to make business there," she said, citing increased bureaucracy, a lack of transparency and China's state-owned enterprise policy, "which doesn't create a good level playing field."
The EU remains concerned about steel, she added. "China is obviously dumping the market by pumping money into industries that are not sustainable, and that is creating a lot of anxieties across the globe," she said. "We have very frank and open discussions with China on this and we realize that this is not something they can solve over a weekend."
Steel, Coal
European trade ministers are moving closer to agreeing on a new system for levying duties on Chinese dumped steel and other products, according to Bloomberg BNA. Beijing has launched complaints in the World Trade Organization against the EU and the U.S. for not giving China market economy status after it became a full WTO member.
In his work report to this year's National People's Congress, Chinese Premier Li Keqiang said the country has prioritized cutting overcapacity in the steel and coal sectors.
Malmstrom said more broadly that EU nations are grappling with the mood of protectionism and populism, and in getting to grips with Trump's government.
"There are lots of people missing still and we have not been able to really engage with them, to really talk about trade matters for instance," she said of the new U.S. administration.
In one of his first acts as president, Trump pulled the U.S. out of a planned 12-nation Pacific trade pact, saying it would hurt U.S. jobs and ran counter to his "America First" policy. That left the Asian nations involved scrambling to salvage it, with some turning now to a separate 16-nation agreement being championed by China.
"We also know, and I think many in this country know, that the path of protectionism won't work," Malmstrom said earlier Wednesday in a speech in Singapore. "It will not restore jobs," she said. "It will not make anybody's country great again. It will simply make everybody worse off."
Japan Deal
Malmstrom said she did not want to put a timeframe on wrapping up talks with Japan, though she met with the country's trade minister a few weeks ago. Other EU officials have said they hope to reach an FTA with Japan this year.
Japan enjoys a trade surplus with the EU, which has a more offensive negotiating strategy aimed at gaining access to traditionally protected Japanese markets such as agriculture.
The EU has insisted Japan remove tariffs on European foods like chocolate, pasta and cheese and scale back non-tariff barriers. In exchange, the EU has been prepared to phase out its 10 percent tariff on autos from Japan.
The bloc has also said it would refrain from demanding duty-free access to the Japanese market for some farm goods.
"We agreed this is really a priority for both of us," Malmstrom said. "There are some issues left that are difficult related to agriculture but we are looking for a date quite soon where we can have a new formal round of negotiations. But we are very advanced."
Before it's here, it's on the Bloomberg Terminal.
LEARN MORE