Hammond Fails to Impress U.K. Budget Twitter
At least the chancellor cracked a few jokes.
By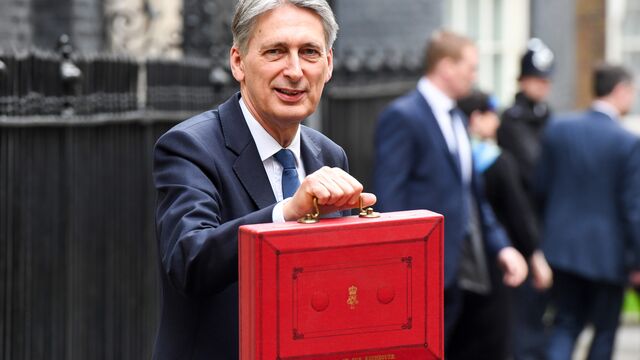 Economists and analysts were quick to react to the U.K. government's latest taxation and spending plans, laid out Wednesday to Parliament by Chancellor of the Exchequer Philip Hammond.
Their verdict? The jokes might have been the best part.
The main message was that the government expects the country's economy to grow 2% in 2017 — a faster clip than previously forecast — but growth will slow over the next three years as Brexit comes closer.
Torsten Bell, director at U.K. think tank Resolution Foundation, summed it up:
Danske Bank Research was wary of the U.K. government's prediction of 2% GDP growth.
Andrew Sentance, senior economist at PwC and former BOE policy maker, said the budget pushed Brexit's impact on growth out to the 2020s. But he seemed unimpressed.
The biggest change for businesses, Sentance said, appeared to be more help to cushion the blow of previously announced higher property taxes, known as business rates.
The Federation of Small Businesses wasn't happy with a tax increase on self-employed or contract workers.
On that measure, here's Jasper Lawler, an analyst at London Capital Group:
On the government's plan to cut borrowing by £23.5 billion over next five years, Bell at the Resolution Foundation noted:
George Magnus, associate at the China Centre at the University of Oxford, was also underwhelmed.
Hammond lightened the mood with some jokes, including one about a former chancellor getting sacked. The jokes didn't go unnoticed.
Rupert Harrison, formerly George Osborne's chief of staff and now at BlackRock, even interpreted the jokes:
Before it's here, it's on the Bloomberg Terminal.
LEARN MORE