BOE Keeps Its 2% Inflation Target After Speculation About Remit
By
Statistics office to make CPIH key inflation index this month

Chancellor says inflation target is symmetric at all times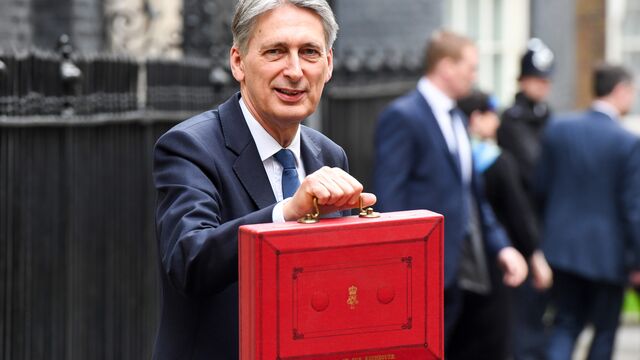 U.K. Chancellor of the Exchequer Philip Hammond reiterated that the Bank of England's inflation goal will be to target a 2 percent annual increase in the consumer-price index.
Some economists had speculated ahead of Wednesday's budget that Hammond might switch the measure of inflation that the BOE targets. The Office for National Statistics is making CPIH -- the consumer prices index including owner-occupiers' housing costs -- its favored gauge of inflation from March 21. The BOE currently uses the current preferred measure, CPI. A switch to CPIH would mean policy makers have to incorporate the housing market into their deliberations and forecasts much more than they do currently.
The chancellor must define what the BOE has to do in terms of price stability at least once a year, with the remit letter to the MPC having usually being published at the government's spring Budget. With Hammond making his autumn Budget the country's main fiscal annual event, he said that any future changes to the MPC's remit will be set out in that statement from now on.
The BOE's remit -- to keep inflation at target subject to the economic objectives of the government -- is "symmetric and applies at all times," Hammond said in a letter to the BOE's Monetary Policy Committee on Wednesday. "The government's commitment to price stability remains absolute."
In separate letters to the BOE's financial-stability and bank-oversight committees, Hammond said the government is committed to minimizing Brexit uncertainty by ensuring Britain has a fully functioning legal and regulatory framework for financial services at the point it leaves the European Union.
Before it's here, it's on the Bloomberg Terminal.
LEARN MORE