Photographer: AFP via Getty Images
Your Evening Briefing
Bloomberg News
The evening briefing will soon be available in your inbox every day. To be among the first to get it, sign up here.
When China has a gripe, it can turn a billion people against you. That's what South Korea's finding out after its decision to host the Thaad missile-defense system in conjunction with the U.S. In retaliation, an unhappy China, which argues the system could upset the region's military balance, has cracked the economic whip. It's ordered travel agents to stop selling tour packages to South Korea, pulled hugely popular Korean programs from streaming services and even closed down some Korean-owned stores. The moves eventually could dent sales of everything from cars to chemicals, a strategist says. And as Japan can attest after a dispute involving uninhabited islands in 2012, recovery can be slow. —Kristine Servando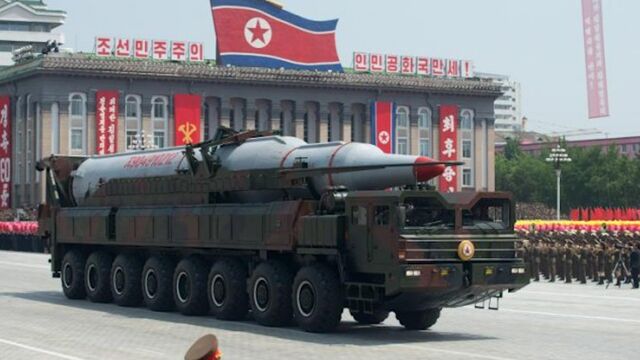 Trump unveiled a new travel ban... and he didn't even tweet about it. Unlike the previous executive order's calamitous introduction, Team Trump chose a carefully stage-managed, deliberately dull rollout this time around. The order barring entry into the U.S. by people from six Muslim-majority nations was signed in private. And its enactment was delayed 10 days, ensuring less havoc at airports. Despite their efforts, the ban is certain to trigger protests and a fresh round of legal challenges.
You might soon be able to buy luxury goods on WhatsApp. Online retailer Yoox Net-a-Porter says it's developing technology to allow big spenders to buy their products directly through WhatsApp, something the fashion industry has been slow to capitalize on. The Prada-wearing devil is in the details: the firm's mobile customers place more than double the orders of desktop users, and those purchases on average are about twice as valuable.
The big problem with China's addiction to tunnels and bridges. Debt alarm bells are ringing over the nation's relentless infrastructure spending, which totaled $10.8 trillion from 2006 to 2015, according to Bloomberg calculations. Beijing is experimenting with public-private partnerships to alleviate the stress on its balance sheets, but some economists warn it may be on a misguided path.
Explosion of lawsuits Down Under. After splurging $200 billion building the world's biggest gas-export plants, Australia's LNG producers are locked in legal battles with contractors over who should shoulder billions of dollars in liabilities from delays and cost blow-outs. Disputes are piling up each week, and a resolution will take months, if not years.
Billions of dollars at stake on Boeing's next move. The planemaker is nearing a decision to build a longer single-aisle jet, the 737 Max, to fill a gap in its portfolio as Airbus racks up order after order for its A321neo. The 737 and A320 family aircraft, long favored by budget carriers, are the largest source of profit for the aerospace titans. At least one prospective 737 Max buyer is already waiting impatiently in the wings.
The most promising startups you've never heard of. Market researcher Quid spotted the potential of Evernote, Twitch and Spotify when they were flying under the radar in 2009. This year, we've asked it to uncover some more overlooked gems. After sifting through 50,000 companies, here's Quid's list of 50 companies to watch, from Mumbai to Madrid, which are raising funds at an impressive clip.
Hot wheels. Mercedes has unveiled the world's most expensive SUV, the $500,000 Maybach G-Class 650, which sports a V12 engine, retractable rear roof and the ability to withstand rugged terrain. If speed is more of a priority, check out the Lamborghini Huracán Performante, the most powerful of its V10-engine range. The $274,000 lightweight supercar has already smashed speed records on a German racetrack. 

Before it's here, it's on the Bloomberg Terminal.
LEARN MORE