Hawaii Judge Set to Hear State Request to Block Trump Travel Ban
By and
American who is a local imam claims mosque work will be harmed

President's revised executive order will take effect March 16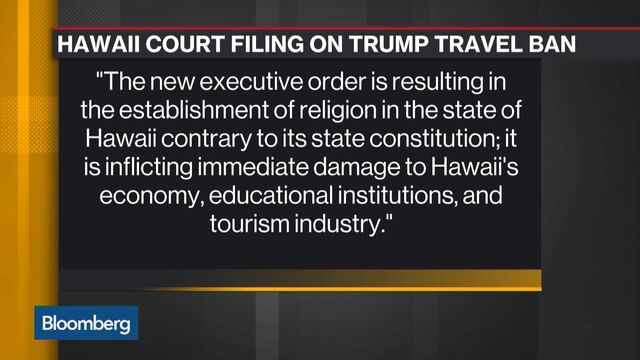 A federal judge in Hawaii agreed to hear the state's request for a temporary block on President Donald Trump's revised travel ban on March 15, a day before the directive banning citizens of six Muslim-majority countries from entering the U.S. is set to go into effect.
U.S. District Judge Derrick Watson in Honolulu on Wednesday reopened the state's challenge to the president's order, giving it permission to file a revised complaint as well as a request for a temporary restraining order. That would put the travel ban on hold as the state attempts to prove it's an unconstitutional attack on Islam. Other states and civil liberties groups are likely to follow.
Trump signed the executive order March 6, reviving a signature directive that sparked global protests and prompted dissent by some of his advisers before it was put on hold by federal courts.
The new order will result in the establishment of religion in Hawaii contrary to the state's Constitution, and will inflict immediate damage to its economy, educational institutions and tourism industry, the state said in a court filing, echoing arguments made in other lawsuits that successfully halted enforcement of Trump's initial order.
The president's original travel ban drew court challenges around the country, and judges in Seattle, New York and Virginia quickly blocked parts of the order. Hawaii's challenge was placed on hold when a federal appeals court in San Francisco upheld a nationwide ruling temporarily halting the ban. That case was officially dropped Wednesday.
Trump and Steve Jobs's Widow Discuss Immigration at White House
"The history of this executive order is rife with evidence that this has been, from start to finish, a Muslim ban," said Hawaii's lawyer Neal Katyal of Hogan Lovells in Washington. "President Trump may now want to not call that spade a spade, but he's done so many times before."
Trump and his surrogates have said repeatedly that the travel ban has nothing to do with any particular religion. Banning citizens of Iran, Libya, Somalia, Sudan, Syria and Yemen from entering the U.S. was decided because those countries are rife with terrorism and their governments are failing, the administration said. The order is intended to protect Americans from immigrants with bad intentions who slip through the cracks, Trump has said.
Trump softened the new directive by officially exempting green card and valid visa holders from the ban.
The Department of Homelands Security's press office didn't immediately respond to a message seeking comment.
Under Review
Several other U.S. states may take similar actions after reviews of the revised executive order. The American Civil Liberties Union, which also filed challenges to the old travel ban across the U.S., is considering its next moves and has said the legal fight will continue.
Hawaii made the first move because Attorney General Douglas Chin, the state's top legal officer, "recognized that the real clear and present danger to the U.S. was not immigration, but rather the trampling of bedrock American principles," Katyal said.
Hawaii's proposed complaint cites several statements made by Trump before the election as evidence that the real intention of the travel ban is to halt Muslim immigration. The complaint cites a press release entitled "Donald J. Trump Statement on Preventing Muslim Immigration," issued on Dec. 7, 2015, shortly after terror attacks in Paris. In it, Trump calls for a "total and complete shutdown of Muslims entering the United States."
One day after that news release was issued, when Trump was asked about the proposal, he compared it with former President Franklin Roosevelt's internment of Japanese-Americans during World War II. Trump went on to say that Muslim non-citizens should be asked what their religion is when entering the U.S.
Hawaii Plaintiff
Hawaii's plaintiff in the case is Ismail Elshikh, an American citizen of Egyptian descent with a wife of Syrian descent. He holds a Ph.D. and is the imam of the Muslim Association of Hawaii, according to court papers. 
The ban will prevent Elshikh's Syrian mother-in-law from obtaining a visa to reunite with her family in Hawaii, according to the complaint. The family has been "devastated" by the news, particularly since Elshikh's mother-in-law hasn't visited Hawaii since 2005 and hasn't met two of her grandchildren, the state said.
Elshikh also alleges harm based on his work at his mosque, arguing that because Muslims are targeted by the executive order, "he and members of the mosque will not be able to associate freely with those of other faiths," according to the filing.
Hawaii is the most ethnically diverse U.S. state and is home to 250,000 foreign-born residents, including more than 100,000 non-citizens. More than 22 percent of the state's business owners are foreign-born, Hawaii said.
What New Trump Travel Ban Means for Legal Battle: QuickTake Q&A
Katyal, the state's lawyer, served as Acting Solicitor General of the U.S. from 2010 to 2011, and may soon make U.S. Supreme Court history. Famed civil rights attorney Thurgood Marshall is the only other minority who has argued more U.S. Supreme Court cases than Katyal. Katyal also teaches at Georgetown University Law Center.
The case is Hawaii and Ismail Elshikh v. Donald J. Trump, 17-cv-00050, U.S. District Court, Hawaii
(An earlier version of this story corrected the date of the revised order.)