markets
Trump Sends Pharma Stocks Down With New Tweet on Drug Prices
By
President says he's working on a 'system' to reduce prices

Shares of Mylan, Perrigo, Allergan decline after the tweet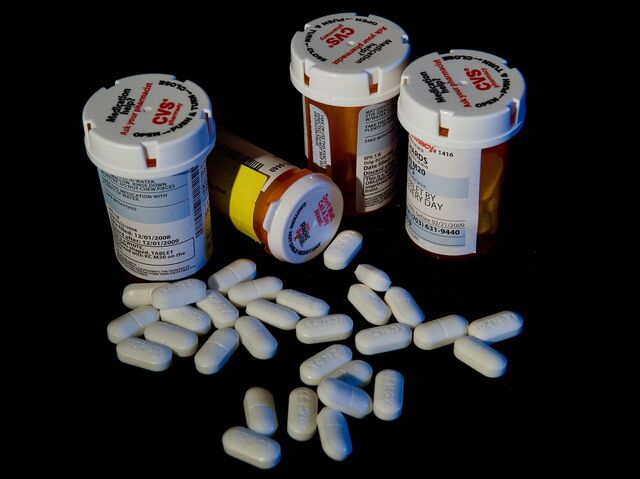 President Donald Trump jumped back into the debate over drug pricing on Tuesday, sending pharmaceutical stocks down again with a tweet promising to lower medicine costs for American people.
In a tweet shortly before 9 a.m. New York time, Trump said he's working on a "new system where there will be competition in the drug industry."
Mylan NV, the maker of the EpiPen allergy shot that was at the center of the public outrage over drug prices last year, declined 1.5 percent to $43.36 at 12:18 p.m. in New York, while Perrigo Co. dropped 2.5 percent and Allergan Plc fell 1.5 percent.

Trump sent his tweet the morning after House Republicans unveiled their long-awaited legislation to repeal and replace the Affordable Care Act late Monday, which he also touted Tuesday, adding that competition will come later in the health-care rollout.
"We are intrigued by the timing of President Trump's tweet this morning as it followed rapidly behind the House health-care reform bill, and we believe shows the administration's continued focus on drug pricing," Vamil Divan, an analyst at Credit Suisse AG, said in a note to clients.
The 25-member Standard & Poor's 500 Pharmaceuticals, Biotechnology & Life Sciences Index dropped as much as 1.3 percent, the most since Jan. 11, when Trump said the pharmaceutical industry is "getting away with murder." The president has promised to lower drug costs multiple times -- and threatened to use the government's buying power to force prices down -- but so far has not unveiled any specifics about how to do so.
The Tuesday tweet left analysts struggling to figure out what the president meant, especially because Trump has alluded to bidding in the past. Unlike most countries in the world, the U.S. doesn't directly regulate medicine prices, and drugmakers have strongly resisted it.
Pricing Wars
There already is competition between branded drugs and generic drugs, which also face intense pricing wars among themselves, Umer Raffat, an analyst at Evercore ISI, said in a note to clients.
Medicare Part D, the prescription drug part of the government program for the elderly, already includes multiple formulary tiers with branded drugs that are interchangeable, meaning they can generally compete against each other, Raffat wrote. That's not the case for Medicare Part B, which covers doctor visits, outpatient treatments and lab tests, Raffat wrote.
"Reality is, we just don't know until something definitive is put out," he wrote.
Lowering co-payments is a short-term possible way of lowering drug costs, according to Divan, the Credit Suisse analyst. He wrote he's unclear how Part D could be reformed since pharmacy benefit managers -- middlemen who negotiate drug prices in secret -- already providing "some competition." There could be some potential changes to Part B policies, he said.
Trump is "committed to making drugs more affordable while promoting innovation, and cutting regulations to encourage drug companies to bring back operations and jobs to the United States," the White House said in an emailed statement, without elaborating on the meaning of the tweet.
Under Pressure
Drugmakers are under intense pressure to come up with ways to reduce prices amid outcry from members of Congress and U.S. customers. Some companies, including Allergan and Swiss giant Novartis AG, have responded with voluntary actions to cap price increases. Johnson & Johnson and Merck & Co. have taken steps to increase transparency about their prices.
J&J reversed earlier losses and was up 0.1 percent, and Merck dropped 0.5 percent. Drug wholesalers also fell, with McKesson Corp. down 2.3 percent, Cardinal Health Inc. dropping 0.7 percent, and AmerisourceBergen Corp. declining 1.6 percent.
Trump met with top industry executives in January, and his comments to the media suggested backing off a worst-case scenario where the U.S. government would set drug prices. The industry's lobbying group has started a media campaign to highlight the science behind its medicines. It has also been joined by drugmakers in pushing outcome-based pricing programs, which is when companies refund some of the money to insurers if a medicine doesn't work as expected.
Representative Elijah Cummings from Maryland, a critic of high drug prices who is the highest-ranking Democrat on the House Committee on Oversight and Government Reform, is set to discuss lowering drug prices with Trump on Wednesday, his office said in a statement. Also attending will be Representative Peter Welch, a Democrat from Vermont, and Redonda Miller, a physician and president of Johns Hopkins Hospital in Baltimore.
"The President promised -- both during the campaign and after -- that he would support efforts to stem the skyrocketing prices of prescription drugs, so I am looking forward to discussing ideas he said he supports," Cummings said in the statement.
(
Updates with Cummings's comments.
)
Before it's here, it's on the Bloomberg Terminal.
LEARN MORE