politics
Trump Administration Eyes $6.6 Billion Border Funding Request
By , , and
Plan would include $1 billion for U.S.-Mexico border wall

Request is down payment for president's border-security plan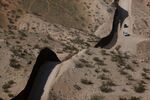 President Donald Trump's administration is preparing a request for as much as $6.6 billion for a down payment on his promises to build a wall at the U.S.-Mexico border and crack down on undocumented immigrants.
The supplemental request may be sent to Congress as early as next week, according to people familiar with the plan. That would jump-start a debate in Congress over the president's far-reaching proposals, the costs, and which undocumented immigrants to target for deportation.
Trump made the border wall a centerpiece of his political campaign for the presidency, regularly telling crowds of supporters that the U.S. would build a "great" structure and have Mexico cover the cost.
An early version of the plan being fashioned by the White House and the Department of Homeland Security would include $2.8 billion to begin carrying out Trump's executive orders calling for construction of a border wall and increased deportation of undocumented immigrants, the people said. About half of that amount would be used for a major increase in detention facilities and for alternatives including ankle bracelets. 
About $1 billion would be set aside for border-wall construction. Other funding includes $115 million for added Immigration and Customs Enforcement personnel and another $115 million for Customs and Border Protection hiring, the people said.
Other Expenses
The early version of the plan also includes $3.8 billion for other Homeland Security expenses, including Customs and Border Protection operations unrelated to a border wall, ICE operations, including immigration prosecutions, and Coast Guard matters, according to the people familiar with the plan.
The request would amount to about 16 percent of the 2017 budget request for the Department of Homeland Security, and exceed funding for the entire Immigration and Customs Enforcement agency.
Department of Homeland Security spokesman John Baker said it would be premature to discuss specifics of the emerging proposal. "The president and his cabinet are working collaboratively as we speak to create a budget that keeps the president's promises," he said.
The funding request would be a start on Trump's campaign promises that may carry a high price tag for U.S. taxpayers. Trump promised to make Mexico pay for a wall, but no one in the administration has spelled out how the Mexican government -- which staunchly opposes picking up the tab -- could be compelled to do so.
Senate Minority Leader Chuck Schumer, a New York Democrat, asked whether his party would try to block funding for a border wall, told reporters Tuesday, "We're discussing that issue right now."
"The wall is both impractical and unpopular and we would say to the president, 'Why don't you get Mexico to pay for it and not have to take money away from other needed programs?'" Schumer said.
15,000 Agents
In a pair of memos released last month, Department of Homeland Security Secretary John Kelly called for the hiring of 15,000 more Border Patrol and immigration agents to implement Trump's Jan. 25 executive order. The memo also called for Customs and Border Protection to "immediately begin planning, design, construction and maintenance of a wall" on the U.S. border with Mexico.
Republicans in Congress and the administration can advance the funding by using a 2006 law that required 700 miles of "physical barrier" at the border that was never completed. Plans are in the works to give the administration authority for further funding.
More authority could come soon. House Homeland Security Committee Chairman Michael McCaul of Texas has said he is drafting a measure that would authorize $15 billion over 10 years for Mexican border security that would include a flexible sector-by-sector approach for deciding which resources would be most effective. He said he envisions using fencing, added technologies and more border patrol agents rather than a concrete wall.
His support for more traditional approaches besides an actual wall is shared by Senate Homeland Security and Governmental Affairs Chairman Ron Johnson, a Wisconsin Republican. Johnson said Trump's executive order on a border wall requires a study to examine approaches, so he insists that practical solutions will fall into place.
'It Becomes Clear'
"From my standpoint, I've never thought we needed a 2,000-mile wall," Johnson said in an interview. "We have to use technology. We have to use boots on the ground in some areas. But as we develop this information, it becomes clear what we need to do."
Trump's pledge to deport undocumented immigrants and build a U.S.-Mexico border wall helped fuel Republicans' surprising election victories. There are, however, deep divisions within the party.
Three Republican senators have introduced legislation with Democrats to shield about 750,000 young undocumented immigrants from deportation if Trump cancels a 2012 order from President Barack Obama that let them stay in the U.S. Similar bipartisan legislation is pending in the House.
Senator John Cornyn of Texas, the No. 2 Republican leader, has said that legislation could be included in border security legislation this year.
— With assistance by Steven T. Dennis, Erik Wasson, and Justin Sink
Before it's here, it's on the Bloomberg Terminal.
LEARN MORE