markets
TransDigm Bulls Rebuffed as Short-Sellers Heed Citron's Call
By
Short bets have risen to the highest level since July 2008

Stock is best-rated in the S&P 500 Aerospace & Defense index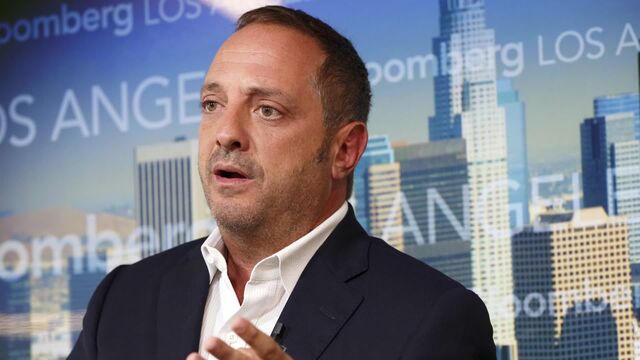 Bears are getting the better of bulls in the tug-of-war for TransDigm Group Inc.
The aircraft-parts supplier stands out as the only decliner in the S&P 500 Aerospace & Defense Industry Index since the Nov. 8 presidential election and has the most short interest among 11 members. At the same time, it's the highest-rated stock in the gauge, with the consensus recommendation among sell-side analysts near the most bullish in seven years.
Bears are piling in after Andrew Left of Citron Research, known for taking down Valeant Pharmaceuticals by highlighting its pricing strategy, published a report that claimed TransDigm is taking a similar tack, buying out competitors and then raising prices egregiously. President Donald Trump's vow to cut defense procurement costs doesn't bode well in that scenario, Left says.

Bullish analysts point out that less than a third of TransDigm's sales come from the defense sector and direct sales to the U.S. government contribute less than one-tenth of company revenue. Robert Spingarn, a Credit Suisse analysts who recommends buying TransDigm, said some of the underperformance may be attributed to its relatively high debt levels as the Federal Reserve increases interest rates. "You start to get some people fleeing more highly leveraged stocks on expectations that interest costs will rise," he said in a phone interview.
TransDigm has fallen 9.1 percent since the election, compared with a 16 percent increase in the S&P 500 Aerospace & Defense Industry Index. On a scale from 1 to 5, it has a consensus recommendation of 4.56, with 14 buy ratings, four holds and no sells.
'Ugly Underbelly'
Short interest has surged to more than 10 percent of shares outstanding, the highest level since 2008. In his Jan. 20 report, Left said "the ugly underbelly of TransDigm's business is that aggressive year-over-year price increases" are the only thing keeping the company from showing negative organic growth of almost 10 percent. Three days earlier, Capitol Forum, a publication that provides news and analysis on government contracts, offered a similar critique of TransDigm's pricing strategy and said the company's significant leverage left little room for error or political risk.
TransDigm didn't reply to e-mails and phone calls seeking comment. Executives on a Feb. 7 earnings call said about 12 percent of sales came from domestic defense companies including Lockheed Martin Corp., Boeing Co., Honeywell International Inc., Northrop Grumman Corp. and Raytheon Co. They did not directly address the price-gouging allegations made by Citron or Capitol Forum.
The company's shares took yet another hit on Tuesday after Capitol Forum said the Defense Logistics Agency was evaluating incorrect ownership disclosures made by certain TransDigm subsidiaries. The news wiped out TransDigm's gains from earlier in the day and sent the stock down as much as 5.4 percent.

Spingarn reiterated his outperform rating on the stock days after Left's call, saying he doesn't expect any significant or near-term shift to industry dynamics that would disrupt the company's pricing model. That is broadly reflective of analysts' stance on the company.
TransDigm is "the Amazon of aerospace," Jefferies analyst Sheila Kahyaoglu wrote in a note defending the company in January. Kahyaoglu cited a Jefferies customer survey that indicated TransDigm customers experienced an average annual price increase of 3.6 percent, "hardly price gouging."
In its Jan. 17 report, Capitol Forum said that while price comparisons on some parts can be difficult as they are bought at irregular intervals and in differing quantities, its research found that all parts produced by TransDigm companies "generally double in price" after an acquisition, with some increasing "by well over 100 percent."
Capitol Forum's Executive Editor Teddy Downey stood by the publication's initial findings of steep price increases in an interview Monday.
"I really think the story here is what TransDigm does to obfuscate the costs of the parts that it sells to the government," Downey said.
(
Adds stock reaction to latest Capitol Forum report in eighth paragraph.
)
Before it's here, it's on the Bloomberg Terminal.
LEARN MORE