business
Populist Losses in Finland Show Winning Power Can Be Disastrous
By and
The Finns party has had to learn to compromise in cabinet

Parliament's second-biggest party has fallen to sixth in polls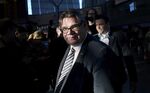 Finland's populists have become a lot less popular since gaining power.
Riding on a wave of discontent during the European Union's debt crisis, the anti-immigration and anti-EU The Finns party vaulted into power in 2015 as the nation's second-biggest. Things haven't gone well since. The group has seen its popularity drop in half after it failed to deliver on much of its agenda. Its leader of 20 years, Foreign Minister Timo Soini, over the weekend announced he will resign as of June.
"For populist parties, it's hard to bear responsibility," Mari K. Niemi, a researcher in political history at the University of Turku, said by phone from Glasgow. "And it's not just the responsibility, it's being seen as part of the elite and losing your status as 'alternative'."
The Finns now face a steep climb to lure back voters. The chances are that no matter what the party chooses, it will suffer as a result. It can either pick a moderate leader to follow in Soini's footsteps, remain in power and watch many of its backers grow more disillusioned, or go for the more extreme option and be marginalized.
The party has yet to deliver on key promises such as eliminating taxes on cars, and it had to accept backing a third rescue package for Greece. It was also buffeted by forces outside its control, reaching power amid an economic downturn and during the biggest inflow of asylum seekers in Finnish history. But according to Niemi, the stakes are higher for populist parties, which in many cases have made big promises that are harder to turn into reality.
The party's difficulties may hold a lesson for the establishment across Europe now seeking to contain a populist wave. The question is whether it's better to invite them in to temper their ideas or to keep them on the outside where they can keep agitating.
In the Netherlands, which faces an election later this month, mainstream parties have already ruled out including the anti-Islam, anti-EU Freedom Party led by Geert Wilders in any coalition because of his platform of reimposing national borders and ditching the euro. There are also fresh memories from 2012, when Wilders brought down a coalition he had pledged to support from the outside in protest against austerity measures. Wilders lost nine seats in the ensuing election.
Your Guide to Dutch Elections, a Bellwether to European Populism
Anti-immigration parties in Sweden and Denmark have also built up large followings while outside government. In Sweden, the established parties have so far shied away from working with the Sweden Democrats on a national level, though the Conservatives recently opened the door. The Danish People's Party has over almost two decades had success in supporting center-right governments in exchange for ever tighter immigration rules. Norway's far-right party has struggled to maintain support after joining a ruling coalition in 2013.
For Finland, the swoon of The Finns could prove costly. With the party still holding sway as kingmaker, a leadership battle may impede its ability to compromise and continue as part of the government.
Sampo Terho, a Soini loyalist and the parliamentary group chairman, said on Monday that he's running. But he's likely to be challenged by Jussi Halla-aho, a member of the European Parliament who's part of the more extremist anti-immigration wing and has been convicted over his writings against Islam. Halla-aho plans to announce his decision within a week, he said on his Facebook page.
Analysts are already voicing concern. "The upcoming change in leadership in our view bears the potential for a reversion to the party's more euro-skeptic governance, which could destabilize the government and impede the country's economic structural reform program," BMI Research, a unit of Fitch, said in a note.
While Terho has the backing of the party's inner circle, Halla-aho is a strong contender, Niemi said. He would probably lead the party toward more extreme policies and a stronger anti-euro position, making it very difficult for the party to stay in government, according to Jan von Gerich, chief strategist at Nordea Bank AB in Helsinki.
Such political turmoil could put an end to a broad program of measures designed to shore up state finances and reinvigorate the northernmost euro economy, where gross domestic product still remains below its 2008 level.
"If a new government would have to be formed, the reform process of Finland would slow down at best, or stall completely at worst," von Gerich said. "The current government program, including much of the planned structural reforms, would be practically dead."
Before it's here, it's on the Bloomberg Terminal.
LEARN MORE