politics
Trump Renominates Net Neutrality Foe Ajit Pai to FCC, Source Says
By
Pai has criticized open-internet rule passed by Democrats

FCC short-handed because two Democrats left following election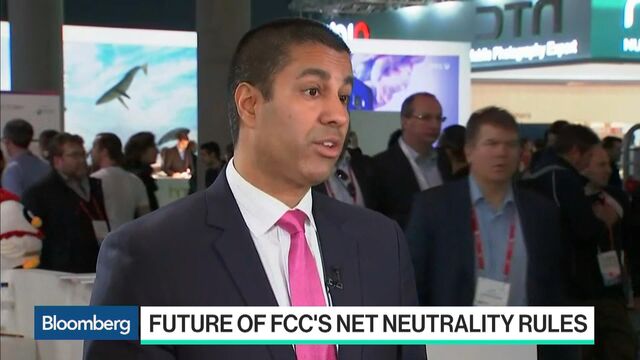 Federal Communications Commission Chairman Ajit Pai was nominated by President Donald Trump to serve a second term at the agency.
Pai, a Republican lawyer, has been on the commission since 2012 and the agency's chairman since being designated by Trump in January. The nomination, subject to Senate confirmation, is for the remainder of a five-year term, stretching until 2021.
"I am deeply honored," Pai said in a statement. He said he wants to "continue to work with my colleagues to connect all Americans with digital opportunity, foster innovation, protect consumers, promote public safety, and make the FCC more open and transparent to the American people."
Two Democrats left the agency after Trump's November election, leaving the body with a 2-to-1 Republican edge.
Telecommunications companies regulated by the FCC welcomed Pai's nomination. AT&T Inc. said Pai already has worked to remove "outdated and unnecessary regulations" and Charter Communications Inc. said he "understands that regulatory stability allows businesses to grow and create jobs."
The National Association of Broadcasters trade group praised what it called Pai's support for "reforming outdated media ownership rules."
Pai has called for "light-touch regulation" and moved to trim rules since being designated chairman by Trump in January. He has spoken out against media ownership restrictions and privacy requirements for broadband providers, and criticized the net neutrality rules adopted by Democrats in 2015.
Pai has already suspended a requirement that internet service providers safeguard customers' data, and moved to ease broadband construction mandates imposed when the agency approved Charter's acquisition of Time Warner Cable Inc. last year.
He also closed inquiries opened by Democrats into whether free wireless data plans from AT&T, Verizon Communications Inc. and T-Mobile US Inc. violate open-internet rules by favoring mobile providers' affiliates.
Before it's here, it's on the Bloomberg Terminal.
LEARN MORE