Le Pen Promises to Resign If EU Exit Vote Fails, AFP Says
By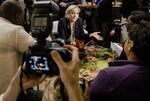 French presidential candidate Marine Le Pen said she would leave office if, after winning power, she fails to win popular backing to pull France out of the European Union in a referendum, Agence France-Presse reported.
"What will happen if I tell them we must exit and they decide to remain? Well, they will decided. The people are right," Le Pen was quoted as saying by AFP. "What would you want me to do? I'll leave," she said.
Before it's here, it's on the Bloomberg Terminal.
LEARN MORE