Japan's 4Q Growth Raised to 1.2% as Exports Drive Investment
By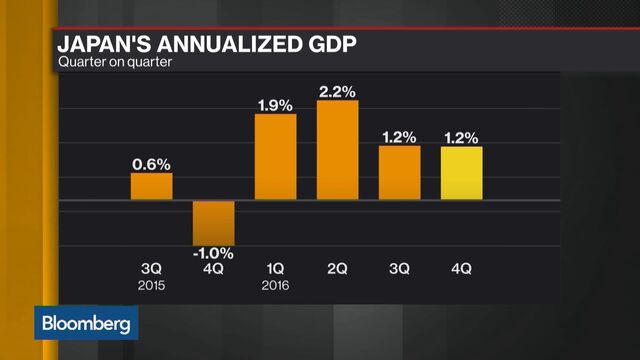 Japan's economic growth was revised upward for the fourth quarter of 2016, as export-driven business spending offset sluggish consumer demand.
Key Points

Gross domestic product expanded 1.2 percent on an annualized basis from the previous quarter in the three months through December, according to data released by the Cabinet Office on Wednesday (preliminary figure was +1%; median estimate of economists +1.5%).
Measured quarter on quarter, GDP rose 0.3 percent (preliminary figure +0.2%; economists' forecast +0.4%)
Business spending rose 2 percent (preliminary figure 0.9%; economists' estimate +1.7%).
Japan's current account surplus was 65.5 billion yen in January (estimate 270 billion yen), according to a separate set of data.

Big Picture
Japan's economy has expanded for four consecutive quarters, the longest run in more than three years. But the growth has been modest and mostly driven by exports, while private consumption at home remains soft. The yen's decline following Donald Trump's election is expected to support corporate profits, but economists are skeptical that companies will pass that along to workers via significant wage gains.
Economist Takeaways
"An export-led recovery will probably continue, which is the typical pattern of the Japanese economy," said Hiroaki Muto, chief economist at Tokai Tokyo Research.
"The strength in investment isn't coming from strong domestic demand," Muto said "It's basically foreign demand. Production of exports is picking up, which pushes up business spending."
"The data underline that the large fiscal stimulus package revealed last July remains but a mirage," Marcel Thieliant, senior Japan economist at Capital Economics, said in a note. "Admittedly, public consumption rose by 0.4% q/q last quarter, the second straight increase. But public investment fell for the second straight quarter and was the lowest it has been since the launch of Abenomics."
View on GDP data from Bloomberg's economist
The Details
Private consumption was unchanged in the fourth quarter of 2016 (preliminary figure 0%; economists' forecast 0%)

Private inventories subtracted 0.2 percentage point from GDP (preliminary figure -0.1%)
Net exports, or shipments less imports, added 0.2 percentage point to GDP (initial figure +0.2%)
The GDP deflator fell 0.1 percent from a year earlier (preliminary figure -0.1%)