Merkel's Biggest Rival Sounds a Lot Like Her When It Comes to Policy
By , , and
A Social Democratic challenger sounds a lot like the incumbent

"You won't get any EU-bashing with me," candidate Schulz says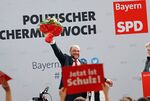 In the western German town of Schwerte, 700 people gathered in a banquet hall jump to their feet, waving red and white signs saying "Time for Martin." That would be Martin Schulz, a Social Democrat aiming to deny German Chancellor Angela Merkel a fourth term in September elections. Despite the surge of energy as Schulz takes the stage, his message is about as radical as the rally's menu of beer and brown bread slathered in Mettwurst, a traditional German concoction of raw pork and onions. 
After a 45-minute speech in which Schulz touts his anti-establishment bona-fides and working class background, he finishes by pledging adherence to a party program that predates Germany's 19th-century unification. "As Social Democrats, we've had the same goals for 153 years," Schulz tells the cheering crowd.
In the past five weeks, the Social Democrats have vaulted from a distant second place to virtual parity with Merkel's Christian Democrats. Yet even as Germans embrace Schulz as a fresh face, support for the 61-year-old represents nothing like the fervent desire for change that energized campaigners for Britain's exit from the European Union, propelled Donald Trump into the White House, and is fueling Marine Le Pen's nationalist bid for the French presidency.
"Schulz's challenge is not really a fundamental one," says Daniel Hamilton, executive director of the Center for Transatlantic Relations at the Johns Hopkins School of Advanced International Studies in Washington. "It's just a different part of the establishment."
Schulz is a seasoned political operator who served 22 years in the European Parliament, including the last five as its speaker. His party has shared power with Merkel's Christian Democrat-led bloc for seven of the past dozen years with little discord. And on at least one key issue -- refugees -- Schulz is largely in line with Merkel, who has put her political future on the line by refusing to wall off Germany.
"People always ask me what I think of the German government's refugee policy," Schulz tells the crowd gathered in Schwerte for an Ash Wednesday rally, an annual fixture in Germany's political calendar. "What's clear is that Germany did what it needed to do."
Superficially, Schulz and Merkel have little in common. The soccer-loving son of a policeman, Schulz never made it beyond 11th grade and kicked booze in his 20s -- "I drank everything I could get my hands on," he has said -- before opening a book store. He's open about his alcoholism, portraying it as an honest reckoning of how far he's come. Merkel, by contrast, can seem formal and plodding in public. She holds a PhD in chemistry, chooses words carefully, and keeps her emotions in check.
For a Quicktake profile of Chancellor Merkel, please click here
Schulz's only political job in Germany was just over a decade as mayor of Wuerselen, a town of 39,000 on the Dutch border. Merkel, 62, has held national office since taking a cabinet post in 1991. Schulz, raised in the west, speaks French and Spanish. Merkel, who grew up in the communist east, studied Russian in high school and once won a trip to Soviet-era Moscow. He likes French chansons; she enjoys Wagner's operas.
From a policy perspective, though, there's far less difference between the two. While Schulz has criticized Merkel's calls for austerity, they're both broadly pro-European and support the blend of capitalism and a social safety net that has been the foundation of Germany's economic success.
In Brussels, Schulz built a reputation as an activist leader who sought a bigger role for the European Parliament against national governments and the European Commission, the body that proposes EU laws, and was known as a tactician with a keen grasp of policy who doesn't shy away from conflict.
"He's able to put emotion back into politics," says Friedhelm Steinbusch, a lawyer in the western city of Aachen who attended a Catholic boys' school with Schulz in the 1960s and considers him a friend even though Steinbusch supports the Christian Democrats. "He's a natural talent."
Schulz's pugnacity in 2003 prompted an outburst from Silvio Berlusconi. After Schulz accused Italy's then-prime minister of conflicts of interest and assailed his coalition ally's anti-immigration policies, Berlusconi likened the German to a "kapo," or Nazi concentration camp guard.
Yet even opponents praise Schulz's dedication to the cause of European integration. When the euro area's breakup loomed in 2015, Schulz flew to Athens to help build bridges between European creditors and Greece's newly elected prime minister, Alexis Tsipras, who had been making bellicose demands for debt relief. While Schulz has a deep partisan streak, he's "a committed European," says Georgios Kyrtsos, a Christian Democrat from Greece serving in the European Parliament.
On the stump, Schulz's straight talk appeals to Germans who feel left behind despite a booming economy. Polls suggest he's taking support from the anti-immigration Alternative for Germany party as well as Merkel's bloc while re-energizing the Social Democratic base: the party says it added some 10,000 new members in February, 40 percent of them under the age of 35.
Though campaigning won't start in earnest until this summer, Schulz is drawing enthusiastic crowds at rallies across the country, peppering his speeches with social democratic themes such as workers' rights, investment in education, and juxtaposing government efforts to "mobilize billions to save banks" with the need for increased social spending.
"You won't get any EU-bashing with me," Schulz says in Schwerte, a gritty town of 50,000 in the Ruhr River valley, the country's old industrial heartland. "Especially when viewed in context of what's happened in the U.S., people must understand that a strong Europe is the best protection for Germany."
— With assistance by Jonathan Stearns, and Nikos Chrysoloras
Before it's here, it's on the Bloomberg Terminal.
LEARN MORE