Hammond Seen Cutting Gilt Sales to Decade-Low in First Budget
By and
Issuance to 'fall dramatically', support long-dated gilts: RBC

Hammond to keep his powder dry amid Brexit uncertainty: Citi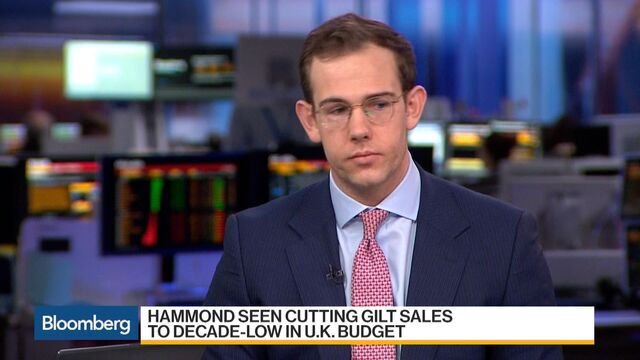 U.K. Chancellor of the Exchequer Philip Hammond may deliver a boost for bondholders in his first budget, with analysts forecasting gilt issuance in the next fiscal year at its lowest since the financial crisis a decade ago.
The Debt Management Office will sell 109.7 billion pounds ($134 billion) of gilts in the year starting April, compared to 146.5 billion pounds in the current fiscal year, according to the median prediction of 14 primary dealers surveyed by Bloomberg. With Britain's economic data beating expectations since the decision to leave the European Union, analysts see improved growth projections, reducing the need to borrow in Wednesday's budget.

In setting the budget, Hammond will have to balance short-term respite with the longer-term uncertainty the Brexit process could bring. This makes it "one of the most complicated" budgets to forecast, according to Scotiabank, but there was a unanimous consensus among analysts for lower debt issuance.
"Additional fiscal space may even be created but the Chancellor has indicated a preference to keep his powder dry ahead of Brexit uncertainty," said Jamie Searle, a fixed-income strategist at Citigroup Inc. "A confluence of factors point to a sharp drop in gilt issuance."
Survey Summary:
| | | | | | | |
| --- | --- | --- | --- | --- | --- | --- |
| | Gross Issuance | Short | Medium | Long | Linkers | Others |
| Median | 109.7 | 28.0 | 21.7 | 31.9 | 26.7 | 4.3 |
| Highest forecast | 132.9 | 32.2 | 27.3 | 40.6 | 33.0 | 7.8 |
| Lowest forecast | 98.8 | 25.0 | 17.0 | 24.0 | 23.2 | 0.0 |
| No. of forecasts | 14 | 12 | 12 | 12 | 12 | 10 |
(Forecasts in billions of pounds)
Key Points:
Better near-term growth forecasts and positive surprises in the public finances for 2016-17 could lead to the announcement at the budget of a cumulative reduction in government borrowing of 50 billion pounds between now and 2021-22, Royal Bank of Canada predicts
For investors, the dramatic fall in issuance will "bode well for long-dated gilts, both on the curve and on asset swaps and look for a flatter term structure", said Sam Hill, senior U.K. economist at Royal Bank of Canada, one of the 19 gilt primary dealers that purchase them directly from the Treasury
The 10-year U.K. gilt yield is currently 1.21%, compared to a record low 0.50 percent hit in August in the wake of the Brexit vote
Banks anticipate the distribution of issuance to broadly follow the current remit, with possible increased allocation toward short-term paper; Deutsche Bank expects conventional syndications followed by an inflation-linked issue potentially as late as July, strategist Jack Di-Lizia wrote in client note dated March 3
The Bank of England's expanded quantitative easing program ended in February. Over the last six months the central bank has purchased 60 billion pounds of conventional government bonds

Citigroup analysts said that lower issuance will help offset the pause in QE and the "a net supply shock will be avoided" 

The "recent richening of 30-year gilt swap spreads may well continue if the gilt remit comes in as low as we expect," Citi added

By contrast, a QE pause would mean the "the market is going to have to adjust back to absorbing new net supply," according to economist Alan Clarke at Scotiabank, whose issuance forecast was near the top of the survey's range

NOTE: Gilt-edged Market Makers whose projections were included: Barclays Bank Plc, Citigroup Inc., Deutsche Bank AG, HSBC Holdings Plc, JPMorgan Chase & Co., Lloyds Banking Group Plc, Bank of America Merrill Lynch, Morgan Stanley, NatWest Markets, Royal Bank of Canada, Santander Global Corporate Banking, Nomura Holdings Inc, Scotiabank Europe Plc, UBS Group AG
Before it's here, it's on the Bloomberg Terminal.
LEARN MORE