Gundlach Predicts `Old School' Fed Will Do Sequential Hikes
By
DoubleLine CEO says 10-year Treasuries may top 3% this year

Central bank historically moves 'until something breaks'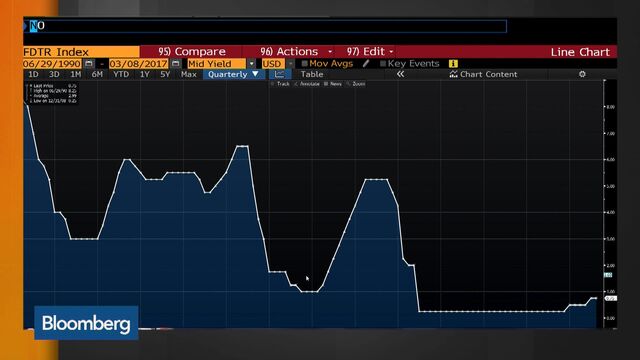 The Federal Reserve is likely to begin raising rates sequentially as inflation and growth speed up, according to Jeffrey Gundlach, manager of the DoubleLine Total Return Bond Fund.
"There's starting to become a sequential type of Fed pattern," Gundlach, chief executive officer of Los Angeles-based DoubleLine Capital, said during a webcast Tuesday. "It's almost old school."
The Federal Reserve is expected to raise its benchmark rate 0.25 percentage point next week for the first time this year as the U.S. economy gains momentum. Fed Chair Janet Yellen signaled last week that more hikes are in store this year if the economy stays on track. Gundlach, one of the few money managers to predict the election of President Donald Trump, said Tuesday he expects two to three rate increases this year.
The Fed has historically raised rates "until something breaks," according to Gundlach, 57, whose firm oversaw $101 billion in assets as of Dec. 31. DoubleLine doesn't foresee a recession on the near horizon, he added, saying the stock market rally could eventually peter out amid higher rates.
Yield Curve
"Clearly, the yield curve has been flattening since July and post-election," Gundlach said. "But it's nowhere near inverted, so there's room to go."
Gundlach said his road map for 10-year Treasury rates this year is a short-term drop below 2.25 percent "and then I think we move up towards 3 percent."
The yield on the 10-year rose to 2.52 percent Tuesday from 2.5 percent.
In a January webcast, Gundlach said a 3 percent rate on the U.S. benchmark would mark an end to the multidecade bond bull market, and he predicted that yields could reach as high as 6 percent by the end of Trump's first term as president, a forecast he reiterated Tuesday.
"We all know that the stock market has some momentum behind it and there's some animal spirits behind it," he said. "But I do think it will succumb to higher Treasury yields should they begin to occur in the middle of the year as we expect."
Gundlach's other investment advice included:
Avoid European debt and equity.
Buy Asian stocks, which are undervalued, especially Japanese and Indian equities.
In a rising rate environment, buy bank loans and Treasury Inflation Protected Securities.
Before it's here, it's on the Bloomberg Terminal.
LEARN MORE