Five Things You Need to Know to Start Your Day
Get caught up on what's moving markets.
By and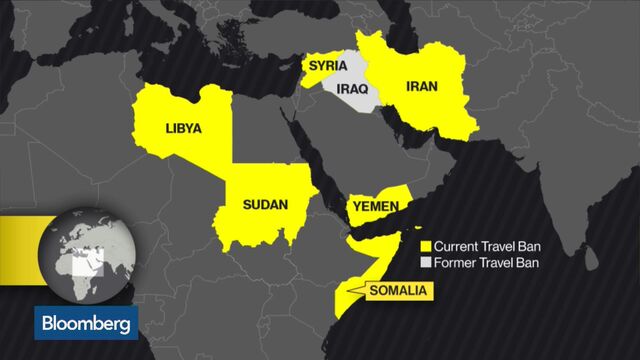 Want to receive this post in your inbox every morning? Sign up here.
Trump introduces a revamped travel ban, the euro area grows as expected, and Saudi Aramco surprises. Here are some of the things people in markets are talking about today.
Trump travel ban
President Donald Trump issued a revised travel ban that will restrict entry to the U.S. from six predominantly Muslim countries, after his initial efforts ran into a backlash in the courts. The enactment of the new order has been delayed until March 16 to avoid the airport chaos which accompanied the first iteration of the ban. Meanwhile, in Congress, Republicans released a draft bill as part of their efforts to repeal Obamacare. Elsewhere in Trump-related news, Exxon Mobil Corp. announced a $20 billion building spree that will create 45,000 jobs, earning a supportive tweet from the president.
Euro-area growth
Gross domestic product in the euro area rose 0.4 percent in the fourth quarter, data released at 5:00 a.m. Eastern Time showed. Household consumption added 0.2 percentage point to growth, the European Union's statistics office said, and with imports outpacing exports, trade constituted a drag. Meanwhile, German industrial orders released this morning are at their worst since 2009 on a monthly basis. The data is volatile, but the 7.4 percent decline was more than twice as steep as analysts had expected. 
Oil markets
Oil traded near $53 a barrel as Iraq and Angola signaled their willingness to extend the Organization of Petroleum Exporting Countries' production cuts into the second half of the year. Saudi Arabia, the world's biggest crude exporter, surprised markets overnight by cutting the official selling price for its Arab Light crude to Asia, when analysts had been expecting a price increase. 
Equities mixed
Overnight, the MSCI Asia Pacific Index rose 0.3 percent while Japan's Topix Index was little changed at the close of a fairly quiet session. By 4:50 a.m. Europe's Stoxx 600 Index was edging lower for a fourth day, while U.S. stock futures pointed to a slightly lower open. 
Thaad!
The U.S. has begun the deployment of its Thaad missile-defense system in South Korea, a day after its neighbor to the north fired four ballistic missiles into the sea. Its launch prompted Trump to reaffirm the U.S.-Japanese military alliance in a phone call with Prime Minister Shinzo Abe, yet the installation risks ruffling feathers in the region, with China previously expressing its disgruntlement. 
What we've been reading 
This is what's caught our eye over the last 24 hours.
Before it's here, it's on the Bloomberg Terminal.
LEARN MORE