Germany's Schaeuble Urges Erdogan to Take Back Nazi Analogy
By
Merkel cabinet member voices concern about Turkish politics

Up to Turkish president to 'make this go away,' Schaeuble says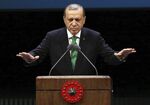 German Finance Minister Wolfgang Schaeuble called on Turkish President Recep Tayyip Erdogan to take back a Nazi comparison and expressed concern about the direction of Turkish politics.
Schaeuble, a prominent German voice on international finance and foreign policy, entered the fray in a dispute that erupted after two German cities revoked permits for rallies by Turkish politicians. A day after Merkel condemned Erdogan's comment, Schaeuble said he wants to avoid escalating the conflict as Erdogan prepares to hold a referendum on his presidential powers in April.
"It would be wise if President Erdogan quickly found a way to make this go away," Schaeuble told foreign reporters in Berlin on Tuesday. "We can't accept that Germany is being talked about in such a way."
As the referendum campaign heats up, government ministers have sought to address the estimated 1.4 million Turkish voters living in Germany, an effort complicated by elevated tension between Turkey and the European Union over Erdogan's crackdown on dissent after a failed coup in July. German Chancellor Angela Merkel has demanded that Turkey release a jailed German-Turkish reporter whom Erdogan has described as a spy.
After local authorities in Cologne and the southern town of Gaggenau cited safety concerns in canceling the campaign rallies, Erdogan responded in Istanbul on Sunday. The rulings have "nothing to do with democracy" and are "not different from Nazi practices," he said.
Before it's here, it's on the Bloomberg Terminal.
LEARN MORE