The Dollar's Barely Budged Ahead of a Rate Rise
By
CIBC, Citigroup see potential dollar weakness before Fed meets

Risk-return on the greenback 'isn't that positive': Englander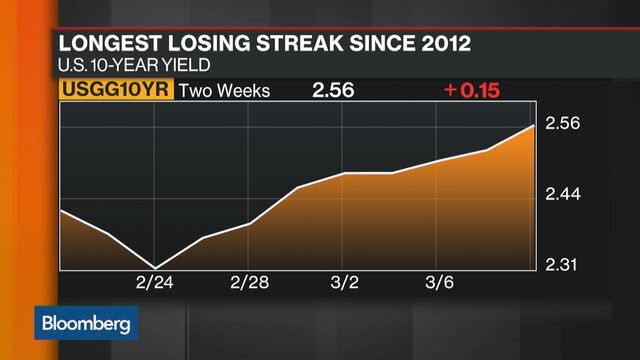 When the Federal Reserve chair telegraphs an imminent rate increase, it's usually a good signal to buy the dollar. Not this time.
Even after a week of chatter by Fed officials signaling they'll likely tighten policy on March 15, the greenback has barely budged. It remains down almost 2 percent this year, in part because all the comments from officials haven't convinced traders to fully buy into the central bank's projection of three hikes this year.
To price in a third boost or even start betting on a fourth hike in 2017 -- a shift that may re-energize dollar bulls -- the market is waiting for the Trump administration to unveil fiscal-stimulus plans including tax reform, traders and strategists say. Lack of detail on that front doesn't bode well for the greenback in the near term, nor does the European political tension that's fueling haven demand for the yen. There's also a slew of technical indicators signaling a cloudy outlook for the U.S. currency.

"The risk-return on the dollar just isn't that positive," said Steven Englander, global head of Group-of-10 currency strategy in New York at Citigroup Inc., the world's biggest foreign-exchange trader. The currency may see some selling or sideways movement as traders await more policy cues from the Fed and the administration.
With the potential for a March tightening raising the odds for a four-hike pace in 2017, currency markets will key in on Friday's U.S. employment data to measure the economy's strength, Englander said. The data will probably show the jobless rate was below 5 percent in February for the 10th straight month, according to a Bloomberg survey.
Traders who are betting on revamped tax policies, including a border-adjustment plan, or increased infrastructure spending will probably be disappointed in their size and speed of implementation, according to Bipan Rai, senior foreign-exchange and macro strategist at the Canadian Imperial Bank of Commerce in Toronto.
'Little Scope'
"There's little scope for the U.S. dollar to rally," Rai said. "Without more clarity around Trump's fiscal plans, it looks as though there's little reason for the Fed to change from three hikes."
Rai expects the Fed's March 15 meeting to kickstart dollar selling, on the view that the Fed probably won't ramp up hawkish signals. He recommends buying the euro against the dollar above $1.0635, with a target at $1.0775. It was last at about $1.0550.
Even as the chances of a March rate boost surged last week, hedge funds and other large speculators reduced net-bullish bets on the dollar to the lowest since September. These positions risk being trimmed even further.
Technical charts also signal short-term headwinds for the dollar, traders said. The currency's inability to convincingly pierce through neckline resistance, combined with price action suggesting a false break, could lead investors to cut long positions.

What's more, Ichimoku cloud analysis for the dollar-yen rate suggests a reversal may be looming. The pair's cloud pattern, highlighted in blue below, is coming to a narrow point. A thinning cloud signals a weak trend and a potential reversal, which may pose a risk to the dollar rally.

The greenback rose in three of the last four months on speculation that Trump policies will boost growth and inflation. But with bearish indicators stacking up, traders want to see more about economic stimulus before reasserting bullish positions.