Corzine Blamed for MF Global's Demise in PWC's Trial Defense
By
Accounting firm defending $3 billion claim it aided meltdown

Defunct brokerage says PwC provided faulty accounting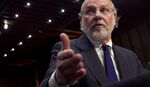 PricewaterhouseCoopers LLP is putting the blame on MF Global Holdings Ltd.'s former chairman Jon Corzine for the New York brokerage's collapse in 2011.
"Its bankruptcy was caused by its risky trading, its unprofitable business and
other problems" James Cusick, a lawyer for PwC, told jurors in Manhattan Tuesday at the start of a $3 billion trial over who's to blame for MF Global's failure. "Mr. Corzine was the mastermind and the driver of that strategy."
The accounting firm is fending off accusations it contributed to MF Global's meltdown. Cusick blamed the brokerage's strategy of investing in European sovereign bonds for the firm's bankruptcy.
U.S. District Judge Victor Marrero delayed the case last month in hopes the parties would settle. The trial is projected to last four to five weeks and will likely feature Corzine on the witness stand.
The trial is expected to focus on a strategy pushed by Corzine when he took over leadership of MF Global in early 2010. Corzine had the firm make bets on European sovereign debt, financed through a type of bond repurchase agreement called a "repurchase-to-maturity" or "RTM" transaction. By September 2011, MF Global had a $6.3 billion portfolio of the Euro RTMs.
The administrator of MF Global's bankruptcy plan administrator claims Corzine relied on faulty accounting advice by PwC in pursuing the strategy.
"PwC simply failed to do its job," said Daniel Fetterman, a lawyer for the administrator.
RTM Accounting
Fetterman said that when Corzine took over MF Global in 2010, he understood that PwC had decided the RTMs were to be accounted for as sales, rather than as secured borrowing.
MF Global's first witness, former Securities and Exchange Commission Chief Accountant Lynn Turner, told jurors that PwC failed to properly account for the RTM transactions and wrongly assessed the company's ability to protect income from future taxes, resulting in a write-down of more than $100 million in the firm's final weeks.
MF Global claims PwC committed professional malpractice, triggering ratings downgrades and loss of liquidity that led to the firm's bankruptcy.
PwC settled with MF Global investors for $65 million in 2015. Corzine, in January, agreed to a lifetime ban from the futures industry and paid a $5 million penalty to the Commodity Futures Trading Commission to settle a lawsuit that claimed he failed to properly oversee MF Global.
The case is MF Global Holdings Ltd. v. PricewaterhouseCoopers LLP, 14-cv-02197, U.S. District Court, Southern District of New York (Manhattan).
Before it's here, it's on the Bloomberg Terminal.
LEARN MORE