Bund Option Traders Not Sweating Over Le Pen Risks
By
June contracts pare heightened fears seen in February

VStoxx futures election spread mirrors pre-Brexit levels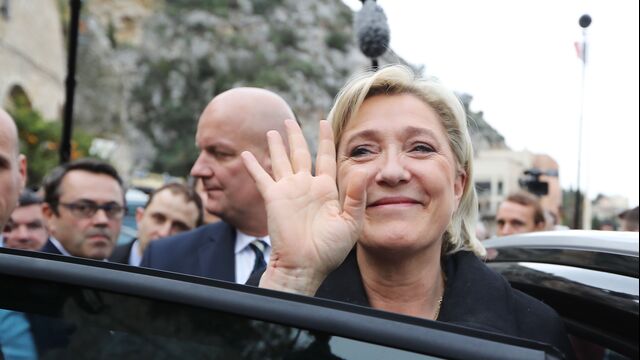 Investors in the options market for bunds and European stocks are becoming less wary of a potential Marine Le Pen victory in the French presidential election.
The implied volatility of June bund options relative to contracts in May has fallen to 0.72 vol from 1.12 vol at the end of last month as bookmakers' odds of a victory for anti-euro candidate Le Pen have lengthened. However, headlines surrounding French political risks may continue to support bunds, particularly now that a potential rate increase by the Fed this month is now largely priced.
The yield premium that investors demand to own French bonds relative to German bunds has narrowed this month as the average probability of a Le Pen victory derived from betting odds has fallen to about 30 percent from almost 34 percent at the end of last month. The National Front candidate's 144-point program for government includes pulling France out of the euro.
Gamma Pared
Investors have used the drop in June bund gamma -- which has pared gains relative to the May contract -- as a potential hedge against a Le Pen victory. The June 165 strike call is equivalent to about five basis points on the generic 10-year generic yield. The option expires on May 26 after the second round of elections on May 7.

OTC Options
The implied volatility on 10-year swaptions that expire in three months has underperformed despite the increase in French political risks. This is because the realized volatility of the 10-year swap rate has remained persistently low.

European Stocks
The spread between Europe stock volatility futures that expire between April and May has shrunk to approach levels of complacency seen ahead of the U.K.'s EU referendum. Ahead of the Brexit vote, the spread started to ease as polls consistently showed that the "remain" camp would win, before spiking on the vote.

* Note: Tanvir Sandhu is an interest-rate and derivatives strategist who writes for Bloomberg. The observations he makes are his own and are not intended as investment advice.
Before it's here, it's on the Bloomberg Terminal.
LEARN MORE