Brexit Bulletin: Is It All Greek to May?
Veterans of the Greek crisis have lessons for Theresa May.
By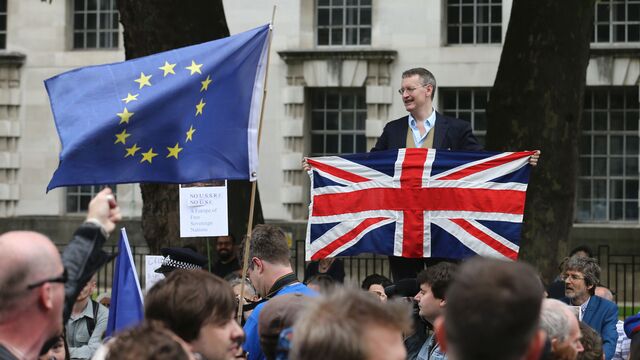 Sign up to receive the Brexit Bulletin in your inbox, and follow @Brexit on Twitter.

There are multiple warnings about what lies in store for Prime Minister Theresa May as the clock ticks down to the start of Brexit talks.
Having already sought the advice of hostage negotiators and divorce lawyers, Bloomberg tapped fresh insights from Greece.
Seven years of fiscal crisis and bailout talks mean its politicians know just what it's like to cross swords with the likes of German Chancellor Angela Merkel.
For former Finance Minister Yanis Varoufakis, the lesson for May is "beware of what I call the euro zone run around." He predicts British officials will receive conflicting messages from Berlin to Brussels, and that a lot of time will be spent discussing how to structure the negotiations rather than issues such as a free trade deal.
Varoufakis proposes the U.K. should file Article 50 and then immediately ask to join the European Economic Area, which allows access to the single market in return for free movement of people and some budget contributions. That would give Britain stability and time to assess how to properly engage with the EU, which is "really not interested in a mutually advantageous deal," he said.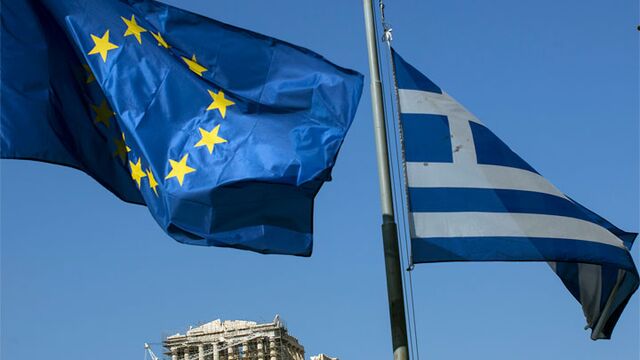 George Papaconstantinou, who ran Greece's finance ministry from 2009 to 2011, is more optimistic.
While he anticipates the EU will adopt a "very hard bargaining" position and seek to safeguard the bloc by refusing to grant too many concessions, he sees Merkel as a political realist.
"She does look at the end of the day for decisions which are win-win," he says. "There is an element of realism which the U.K. can hope for."
"Meaningful Vote"
May faces a more imminent Brexit setback on Tuesday as lawmakers demand more power to shape the final deal she strikes. 
The House of Lords is set to defeat her in a vote, re-writing her draft law to include a guarantee that Parliament will be able to veto the final Brexit agreement if the deal she makes isn't deemed good enough. Lawmakers will also have the power to stop May walking away from talks with no deal under an amendment the peers are expected to pass during the bill's next stage of scrutiny.
The amendment to guarantee a "meaningful vote" is almost certain to pass given some of May's ruling Conservative Party will align themselves with the Labour Party and the Liberal Democrats.
May's team argues that giving legislators the power to veto the final Brexit deal and send the premier back to the negotiating table would undermine her. She is likely to ask the House of Commons to delete the Lords' amendments when the bill returns there on March 13.
The government needs to pass the bill for May to start two years of exit talks. ITV's Robert Peston reported on Monday it may now wait until the end of March to pull the trigger.
Automakers Fret
With the possible exception of finance, no other industry is sweating as much about Brexit as car manufacturing.
As Bloomberg View's Mark Gilbert writes, it's worried by the prospect of tariffs on the 1.3 million cars the U.K. exports each year and on the parts that criss-cross between Britain and the EU.
The fear business could be walloped if May can't land a free trade deal may also may explain General Motors' eagerness to sell its ailing European operation to PSA, the maker of Peugeot and Citroën.
GM President Daniel Amman said on Monday that its Opel and Vauxhall operations "would have been profitable last year except for Brexit."
Adopting an upbeat tone, U.K. Business Secretary Greg Clark said the government is committed to keeping the industry competitive. PSA Chief Executive Officer Carlos Tavares also said a hard Brexit would present an opportunity for auto producers to source parts in the U.K. Meanwhile, Reuters reported Toyota is fully committed to Britain.
The industry lobby group still wants Chancellor of the Exchequer Philip Hammond to use Wednesday's budget to encourage investment and a stronger supply chain, Bloomberg's John Ainger writes.
Brexit Bullets
May should consider taking Britain back into the European Free Trade Association, the four-country body it left in 1972, in order to jumpstart its post-Brexit trade negotiations, a panel of lawmakers says
Merkel says Europe faces a "very nervous" phase after Brexit
British Retail Consortium says consumers are "cautious" and will be squeezed by faster inflation 
43 percent say Brexit will be bad for the economy and only 25 back leaving EU without a deal, according to a BMG Research poll for the Independent
Brexit must not be used as an excuse to amend laws without proper scrutiny, says House of Lords
Home Secretary Amber Rudd says U.K. will try to stay in security organizations after Brexit
Draft statement by Group of 20 finance ministers drops wording on resisting protectionism
Central London office values will probably fall as much as 20 percent this year, according to Deutsche Bank
Julius Baer pauses plans for U.K. hub, says Financial Times
Royal Bank of Scotland Chairman Howard Davies says he's nervous the Brexit talks may start with a standoff
Home Office says 136,479 permanent-residency applications were made by EU nationals and their family members in six months after referendum
EU Competition Commissioner Margrethe Vestager said Brexit "didn't matter much" in reviewing the proposed merger of London Stock Exchange and Deutsche Boerse
EasyJet says passenger numbers on its ski routes and city-break flights surged in February despite weaker pound
On the Markets
Hammond's budget may serve as a boost for bondholders. Analysts are forecasting gilt issuance in the next fiscal year will be at its lowest since the financial crisis began a decade ago as upgraded economic growth forecasts reduce the need for borrowing.
The country's Debt Management Office will sell £110 billion ($134 billion) of gilts in the fiscal year 2017/18, compared to £146.5 billion in the current year, according to the median prediction of 12 primary dealers surveyed by Bloomberg.

And Finally...
Brexit is proving something of a fantasy for Games Workshop Group, the producer of cult tabletop game Warhammer.
Its shares have doubled since the referendum and rose anew on Monday after it predicted sales are "likely to be materially above market expectations" in part because of the sliding pound.
The company, which gets more than half its sales from overseas, sells characters that can be painted and then used to play a dice game, according to Bloomberg's Joe Easton.
In perhaps a parallel with the Brexit negotiations, the "Warhammer: Age of Sigmar" rulebook describes battles as "brutal and uncompromising," with the losing party left to "lick their wounds and bear the shame of failure."
For more on Brexit follow Bloomberg on Twitter, Facebook and Instagram, and see our full coverage at Bloomberg.com
Before it's here, it's on the Bloomberg Terminal.
LEARN MORE