Brazil Bulls Who Called Currency Rally Predict More Gains
By and
ING and Prestige Economics forecast rallies to come this year

Currency breached 3.1 per dollar level in first quarter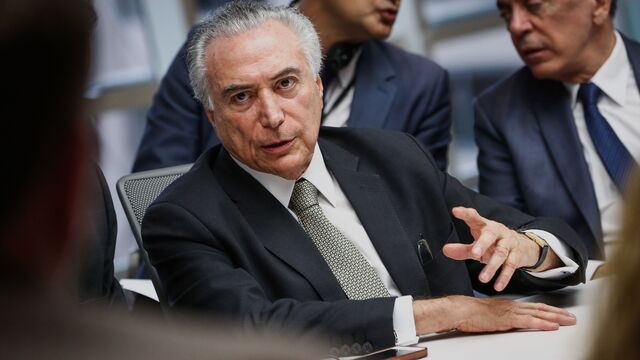 The only forecasters who correctly called the Brazil real appreciating past 3.1 per dollar this quarter are once again defying consensus, predicting more gains ahead for one of the world's best-performing currencies. 
What bearish analysts fail to realize, according to ING Groep NV and Prestige Economics, is that Brazil's already-improving domestic economy is poised to get a dramatic lift from a pickup in global growth and higher commodities prices. An improved outlook for fiscal accounts amid government efforts to dial back spending is also supportive, they say.

"This year should be better than last year for the global economy, and this is positive for Brazil," said Jason Schenker, the chief executive officer of Prestige Economics, a financial markets-research firm in Austin, Texas. "Brazil is a good long-term bet."
The real has been a good bet for the better part of a year, surging more than 20 percent over the past 12 months as President Dilma Rousseff's impeachment ushered in a more business-friendly government that pledged to shore up the budget and pull the country out of its worst recession in a century. Most analysts are skeptical the rally has much further to go, citing a broad strengthening trend for the dollar since Donald Trump's election and concern Brazil's government will struggle to push through a key pension reform.
The real has advanced 3.6 percent this year to 3.1375 per dollar after reaching 3.0574 in early February, and Schenker predicts it will reach 3.05 by the end of the second quarter and 2.95 by the end of the year. That compares with median estimates of analysts surveyed by Bloomberg for 3.25 per dollar at the end of June and 3.35 at the end of the year.
Seven months ago, ING and Prestige Economics were the most bullish prognosticators for the real, while economists surveyed by Bloomberg called for the currency weakening to 3.55 per dollar. The real's rally over the past 12 months makes it the second-best in the world, trailing only Russia's ruble.
"What was different for our outlook was our bullishness on industrial commodities" and a conviction that China would continue to help drive global growth, Schenker said. "As soon as the global economy turned the corner, Brazil's real was going to move pretty quickly."
Gustavo Rangel, the chief economist for Latin America at ING in New York, says the real will be supported by government belt tightening and the carry trade, in which investors borrow money in countries with low interest rates and buy assets in higher-yielding economies. Brazil benchmark overnight rate is 12.25 percent, compared with no higher than 0.75 percent in the U.S.
"Local rates remain very attractive," he said. Rangel forecasts the real will strengthen to 3 per dollar by the end of the first half and end the year at 3.15 per dollar.
Brazil's real gained 0.8 percent to 3.1139 per dollar as of 9:16 a.m. in New York.
Before it's here, it's on the Bloomberg Terminal.
LEARN MORE