'Honor Killings' Nod in Travel Ban Further Inflames Critics
By
ACLU says the provision is evidence of discriminatory intent

Directive requires government to publish list every 180 days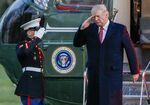 The words jump out in the travel ban issued by President Donald Trump: "honor killings."
Like Trump's initial order, which was blocked by federal courts, the one issued March 6 says the government will start publishing data about violence against women by foreign nationals in the U.S., including so-called honor killings. It is a term often used to characterize murders committed by relatives who believe the victims have disgraced them.
To some critics of the ban, the line is evidence that the travel ban unfairly singles out Muslims. That's because honor killings, which are relatively rare in the U.S., are often associated with Islam.
"We see no reason for this provision, other than possibly looking to demonize Muslim people," said Lee Gelernt, an attorney for the American Civil Liberties Union, which spearheaded lawsuits against the ban around the U.S. He said the ACLU will use the honor-killing provision to support its position that the executive orders are thinly disguised Muslim bans.
Nothing in the executive order has anything to do with any particular faith, and critics who suggest otherwise are "simply wrong," White House spokesman Michael Short said in a statement. 
"This administration strongly believes that gender-based violence in all of its forms has no place in this country," Short said in the statement.
Reporting Requirements
The honor-killing reporting requirement is one of several contained in the executive order, which Trump says are intended to protect U.S. citizens from terror attacks by people who enter the country without proper vetting.
About two dozen honor killings take place in the U.S. each year, according to a May 2015 report by the research firm Westat, which was conducted with federal funds. The report concluded honor killings were rare in the U.S. compared with other types of violence.
The Department of Homeland Security is also required to report cases of other gender-based violence against women by foreign nationals, the number of foreign nationals in the U.S. charged with terrorism-related offenses, and the number of foreign nationals who have been radicalized after entering the U.S. Such reports are expected to be published every six months "to be more transparent with the American people," the order says.
"Why wouldn't we want information about gender-based violence against women and other cases of radicalization by foreign nationals?" said Mark Krikorian, executive director of the conservative Center for Immigration Studies, a Washington-based think tank. "What are the opponents of transparency afraid of?"
Amanda Klasing, a senior researcher at Human Rights Watch, had a different take on the data, saying it unfairly targeted Muslims without addressing the problem of violence against women. "We need to read it within the context of a significant problem in the country that doesn't adhere to whether you're foreign born or a national," she said.
The revised travel ban is less restrictive than the first one, addressing some of the concerns that triggered legal challenges and widespread protests. For instance, Iraq was removed from the list of countries from which travelers were banned for 90 days, and so-called green card holders and visitors with valid visas are exempt from the order.
To learn more about honor killings, click here
Even with the changes, critics said the revised order continued to discriminate against Muslims, and some vowed to mount legal challenges. Trump's own words have been used to support their legal arguments to block the executive orders, and in a Feb. 13 ruling, U.S. District Judge Leonie Brinkema of Virginia said Trump's inflammatory statements as a candidate suggested the intent of the first executive order was a Muslim ban.
"The 'Muslim ban' was a centerpiece of the president's campaign for months," Brinkema said. The honor-killing reporting requirement provides additional support to those claims, the ACLU and others say.
Hans von Spakovsky, a legal fellow at the conservative Heritage Foundation, said it's "ridiculous" to suggest such a data request is discriminatory. He accused critics like the ACLU of wanting to hide crimes committed by immigrants.
"Reporting on such crimes is no different than the very extensive national reporting on crimes done by the U.S. Justice Department and the FBI," von Spakovsky said. "Transparency is always good because it allows us as a democracy to ensure we are making the right choices on public policy based on real information."
'Marginalize Muslims'
Reaz Jafri, who leads the immigration practice at Withers Bergman LLP in New York, said the reporting requirements on honor killings and radicalization will result in all types of crimes committed by Muslims to be counted as terror-related. He also predicted it would lead to an uptick in hate crimes against them.
Publishing the data "will serve no national interest, but will marginalize Muslims -- which will likely create more distrust among those who believe all Trump says is gospel," said Jafri, who represents multinational corporations and wealthy individuals with immigration issues.
Bishop Dwayne Royster, the political director for PICO National Network, a community activist organization that represents more than 1,000 religious congregations, said Trump should be more concerned about acts of violence carried out by U.S. citizens against minority groups, since the number of terrorist acts by Muslims are relatively few.
"This is merely a tool by the administration to continue to stoke the fears of the nation against the Muslim population that is both foreign and domestic," Royster said.